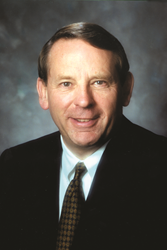 Chicago, IL (PRWEB) January 05, 2017
Samuel K. Skinner, of counsel in the Government Law & Policy Practice at global law firm Greenberg Traurig, LLP, will receive Illinois' Order of Lincoln Award, the state's highest honor for professional achievement and public service.
Since being established in 1964, more than 300 individuals have received the award for bringing honor to the state. Nominees for the award must have been born or live in Illinois and are chosen for their contributions in a range of industries and professions. Past recipients include Gwendolyn Brooks, Hilary Clinton, James Lovell, Walter Payton, Ronald Reagan, and Studs Terkel.
"This year's Order of Lincoln recipients are an outstanding group of individuals and exemplify President Lincoln's relentless and passionate spirit for public service," said Illinois Governor Bruce Rauner. "They have positively impacted their communities in numerous ways, and their contributions will leave a lasting impression on Illinois and the world. It is my honor to award them the Order of Lincoln."
Skinner is the retired Chairman, President and Chief Executive Officer of USF Corporation. He formerly served as President of Commonwealth Edison Company and its holding company Unicom Corporation (now Exelon). Prior to joining Commonwealth Edison, Skinner served as Chief of Staff to President George H. W. Bush and as Secretary of Transportation. Skinner has spent more than 45 years in the legal profession and previously served as the United States Attorney for the Northern District of Illinois.
Skinner will receive the Order of Lincoln Award at the 53rd Annual Convocation & Investiture of Laureates in Chicago on Saturday, May 6, 2017.
About Greenberg Traurig, LLP
Greenberg Traurig, LLP is an international, multi-practice law firm with approximately 2,000 attorneys serving clients from 38 offices in the United States, Latin America, Europe, Asia, and the Middle East. The firm is No 1. on the 2015 Law360 Most Charitable Firms list, second largest in the U.S. on the 2016 Law360 400, Top 20 on the 2015 Am Law Global 100, and among the 2015 BTI Brand Elite. More information at: http://www.gtlaw.com/.