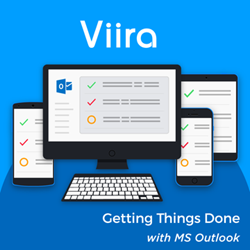 Viira truly stands out above the rest primarily due to its ability to be so powerful, yet simplistic in use. The addition of cloud sync to the Viira Outlook Add-In has put Viira at another level completely!
Vancouver, BC (PRWEB) May 16, 2016
Karta Mobile Inc. has announced the release of an iPhone and iPad app to complement their popular Viira Outlook GTD Add-In. The app brings all key building blocks of a Getting Things Done organizational system to Apple's iOS devices and syncs seamlessly through the cloud with the Viira Outlook Add-In to help people stay organized and get things done from wherever they are.
Viira's GTD iPhone and iPad app is available through the Apple App Store and is compatible with iPhone and iPad devices running iOS 8 or later. It offers a clean interface, dashboard-based navigation and rich integration with the device's calendar, contacts and notification subsystems to provide a comprehensive personal organization system. Viira for iOS is one of very few iOS productivity apps that offer direct email integration: users can attach an email message to any task in Viira without leaving the app.
Available for Microsoft Outlook 2007 through 2016, the Viira Outlook Add-In part of the only integrated GTD-based solution that offers a feature-rich MS Outlook Add-In that syncs with other mobile and desktop apps. In addition to iOS, Viira also offers an GTD Android app as well as apps for Windows and the BlackBerry 10 platforms.
The Viira iPhone and iPad app as well as the Outlook Add-In both offer a 14-day free trial period.
Microsoft Outlook is the productivity platform of choice for many professionals, knowledge workers and decision-makes around the globe who strive to achieve higher personal productivity by incorporating the principles of Getting Things Done in their day-to-day lives. The Viira product family offers a much-needed solution to many who use Microsoft Outlook on a regular basis and would like to better integrate their personal organization systems with iPhone and iPad devices.
"Getting Things Done: The Art of Stress-Free Productivity" is a New York Times bestseller by David Allen that shows readers how to effectively organize tasks, information and communications in an effective and stress-free way. The principles of GTD have been embraced by busy entrepreneurs, professionals and knowledge workers around the world.
About Karta Mobile Inc.
Karta Mobile Inc. is a Vancouver, BC company that specializes in the design and creation of business-centric mobile applications. Karta Mobile's flagship GTD BlackBerry app Viira is the leading GTD-based productivity application on the BlackBerry platforms and has received numerous media reviews and positive testimonials.
Contact: contact (at) kartamobile (dot) com
Company website: http://www.kartamobile.com
Flickr stream: http://www.flickr.com/photos/gtdviira
GTD® and Getting Things Done® are registered trademarks of David Allen Company. Karta Mobile and Viira are not affiliated with or endorsed by the David Allen Company. Viira™ and Viira Outlook Add-In™ are trademarks of Karta Mobile Inc.