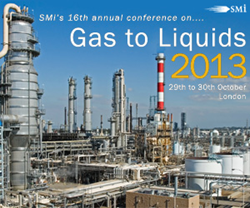 London (PRWEB UK) 24 August 2013
The abundance of natural gas, rising crude oil prices, and environmental regulations have led to increasing interest in Gas to Liquids (GTL) processes. New advancements in Fischer-Tropsch synthesis (FT), Syngas-to-Gasoline plus (STG+), and other GTL technologies are leading the development of modular GTL units. Against this backdrop, SMi's 16th annual Gas to Liquids conference addresses these technology developments and more with topics addressed including project economics, new business opportunities presented by the US shale boom and project updates from an array of GTL giants. Featuring industry keynotes and presentations from GTL industry and technology leaders, this event builds on the success of the 2012 conference by exploring the technological and operational advancements in GTL that are reducing costs, driving market growth and increasing global activity.
Speaker Panel includes:

Mark Schnell, General Manager, Marketing, Strategy and New Business Development, Sasol North America
James Vaughan, General Director, OLTIN YO'L GTL
Mitch Hindman, Licensing Manager, Exxon Mobil
Robin Holford, Conversion Technology, BP
Jeff McDaniel, Commercial Director, Velocys
Shravan Joshi, Business Development Manager, CompactGTL
Sébastien Boucher, XtL Technology Manager, Axens
To view the full speaker line-up and conference programme, visit http://www.smi-online.co.uk/2013gtl24.asp .