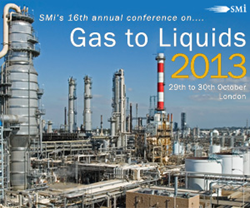 London (PRWEB UK) 21 October 2013
SMi's 16th annual Gas to Liquids Conference and Exhibition, taking place on 29-30 October in London, will assess new business opportunities provided by new technologies being proven at scale, shale gas reserves reshaping the GTL market, in addition to major upcoming projects announced by an array of GTL innovators including Sasol North America, BP, Exxon Mobil among others. This year's conference programme will build upon the success of the 2012 event with discussion and debate on current and emerging projects, in addition to technology sessions and interactive panel debates.
Preview of Key Presentations includes:

Sasol's USA GTL progress and plans
Mark Schnell, General Manager, Marketing, Strategy and New Business Development, Sasol North America
OLTIN YO'L GTL – Benefits to Uzbekistan
James Vaughan, General Director, OLTIN YO'L GTL
Methanol to Gasoline: An Alternate Route to Liquid Fuel Production
Mitch Hindman, Licensing Manager, Exxon Mobil
Panel Discussion: How will the GTL Industry Develop & Where do the Opportunities Lie?
Jeff McDaniel, Commercial Director, Velocys
Tom Parsons, Business Development Manager, BP
Modular GTL – Transformational Gas Solution for the Upstream Industry
Shravan Joshi, Business Development Manager, CompactGTL
From 1st FT reference in BTL to bigger C and GTL applications
Sébastien Boucher, XtL Technology Manager, Axens
To view the full speaker line-up and complete two-day programme, visit http://www.smi-online.co.uk/2013gtl24.asp.
Growing gas monetisation opportunities with Gas-to-Liquids Pre-Conference Workshop | 28th October 2013, Millennium Gloucester Hotel, London, UK.
Led by: Alex Forbes, Director, Forbes Communications
PLUS – Don't miss out on Exclusive Content from your Day 1 Chairman, Alex Forbes discussing:

The surge of interest in GTL technology
The new business opportunities this will bring
Why gas to liquids? Why not just sell gas as gas?
You can download the Webinar, Podcast and Slides from our Downloads Center at http://www.smi-online.co.uk/2013gtl24.asp.
New for 2013:
Drinks Reception
SMi Group invite all workshop and conference delegates, speakers and sponsors to join them for a networking welcome drinks reception at 5.30 p.m. on 29th October 2013.
Evening Reception and Dinner
SMi Group invites you to join them for a post conference Drinks and Dinner Reception following the end of the first day. The Drinks Reception will be held in the Conservatory at the Millennium Gloucester Hotel and the Dinner will be held at the Bombay Brasserie, where you will have the extended opportunity to network with industry professionals. Leave GTL 2013 having forged new working relationships while strengthening current ones.