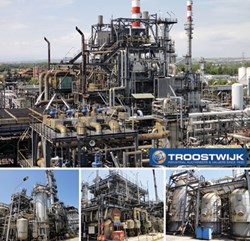 Hamilton, NJ (PRWEB) November 25, 2013
One of the most promising solutions for meeting the growing global transportation fuel demand is Gas-To-Liquid (GTL) processes, which convert natural gas or synthetic natural gas (syngas) into high-value liquid fuels. Refineries can improve their profitability in this growing market (projected to be over $5B in 2013 according to a recent report) by gasifying their residues to produce syngas.
Most refineries convert their residue by-product into low-products like asphalt or bitumen. Gasification technology converts this waste into valuable syngas, the primary input in most commercial GTL processes. One challenge refineries face is that gas-to-liquids plants are extremely capital-intensive. With published overnight capital cost estimates reaching as high as $140,000/bd, even small-scale operations producing 1,000 bd can cost over $100MM.
"According to a report on syngas to fuels economics by the National Renewable Energy Laboratory, a GTL plant's syngas production operation is over half of the plant's entire capital cost," says Michael Joachim, managing director of the plants department at International Process Plants (IPP). "That report cites two primary ways to improve those economics, one of which is decreasing the syngas production capital costs. Buying an existing plant like IPP's refinery gasification plant can cut those capital costs by up to 50%, which could mean as much as a 25% reduction for the entire GTL plant's cost. For example, using the AEO2013 overnight capital cost of $90,000/bd, the capital cost for the syngas production portion of a new GTL plant sized to use our plant's syngas production would be well over $100MM. The buyer of our gasification unit will pay a fraction of that while also drastically cutting the time it takes to launch their GTL operation. That's because existing facilities like the IPP refinery gasification plant can be dismantled, relocated, re-assembled and up operating again in less than half the time of designing, building and launching a new one."
The gasification plant for sale from IPP converts 1,400 metric tons/day of heavy refinery residues into 3,000 mt/day of clean syngas. "Advancements in GTL technology, such as microchannel FT reactors, are enabling smaller-scale plants to become economically viable and that is one of the primary drivers of growth in this market. IPP's gasification plant produces enough syngas to support a small-scale GTL process that could produce over 2,000 barrels per day." says Mike Spell, a petrochemical industry consultant. The plant, which has licensed gasification technology from Texaco, ABB, UOP and Parson, has as its core unit a Texaco gasification system with GE quench gasifier technology. Quench gasification is popular in the refinery industry because of its reliability, operational simplicity and ability to gasify feedstocks with high concentrations of metal like those found in refinery residues. IPP's facility gasifies residues from the standard Arab Heavy as well as Basrah Medium high-sulfur and Iranian Heavy feedstocks. A Praxair™ air separation unit (ASU) provides 70 mt/hr of 95% pure oxygen to the operation.
To learn more about the syngas gasification plant available for purchase from IPP, visit http://www.ippe.com/PlantSearch/SyngasGasificationPlant/tabid/311/Default.aspx?utm_medium=pr&utm_campaign=gtl.
About International Process Plants
IPP is a self-funded global buyer and seller of surplus or idled manufacturing facilities, process plants, industrial real estate, and individual equipment. IPP acts as an outlet for companies seeking to divest assets quickly in both a fiscally and environmentally conscious manner. Most of its purchases are from multinational companies with about 20% coming in distress situations. IPP offers companies with plant projects an opportunity to acquire their needed assets with significant savings and in a fraction of the lead time vs building or buying new. IPP's inventory of over 100 complete processes available for operation elsewhere includes 15 sites that can bought and operated as-is, complete with the land, buildings and equipment. IPP's stock of 30,000 major pieces of process equipment is one of the largest in this business. In business for over 35 years, IPP operates globally from its US headquarters and operations in 16 other countries serving 160,000 clients in the chemical, agrichemical, petrochemical, oil & gas, paper, plastic, power generation, metallurgical, fertilizer, artificial fiber, pharmaceutical and food industries. Learn more about IPP.