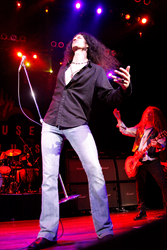 Durham, NC (PRWEB) November 08, 2013
"The American Led Zeppelin," Get The Led Out presents a two-hour set that spans the mythic career of the legendary British supergroup. It's been their mission to bring the studio recordings of "the mighty Zep" to life on the concert stage. Come see Get The Led Out (GTLO) perform at DPAC, Durham Performing Arts Center, on April 6, 2014.
Tickets go on sale Friday, November 15 at noon:

Online at DPACnc.com
DPAC Ticket Center: 919.680.2787, 123 Vivian Street, Durham, NC
Ticketmaster.com / Ticketmaster Charge by phone at 800.745.3000
Friends of DPAC members may place their orders on November 14. Joining Friends of DPAC is free, and you can register at http://www.dpacnc.com/fod.
Get The Led Out was formed in 2003 when a couple of Philadelphia-area musicians contacted Paul Sinclair about singing in a Led Zeppelin project they were trying to get off the ground. Sinclair, who had spent the majority of his musical career performing in his own original band "Sinclair," had reservations about joining a 'tribute' act. "I had no interest in going the impersonator route," says Sinclair. "I've always found it a bit hokey. I was much more intrigued by the thought of playing this music that I loved so much, and playing it accurately. With ALL the instrumentation."
Enter guitarist Paul Hammond who shared a musical partnership with Sinclair that dated back to their teen years. Together they wrote songs, released albums and earned their rock and roll wings on the East Coast club scene. It was only natural that Sinclair would recruit Hammond for the latest rock journey. "I knew Paul [Hammond] would add the stability and musical chops needed to pull this off," Sinclair explains. "Besides guitar, he plays many other stringed-instruments and even played keyboards in an early incarnation of the band."
Sinclair's vision of performing on stage as themselves and doing the studio versions of the Zep catalog was not a popular concept with other early members in the band. "In the beginning, some of the guys wanted to do the look-a-like thing. Akin to a version of the movie 'The Song Remains The Same.' Those guys have since moved on to other things," says Sinclair.
With the Pauls in place and the addition of Adam Ferraioli on drums, Jimmy Marchiano on guitar, multi-instrumentalist Andrew Lipke (keys, guitar, vocals, percussion etc.), and Billy Childs on bass, GTLO's mission finally came into focus: to recreate on stage the complete sound of Led Zeppelin's recordings with the studio overdubs that Zeppelin themselves never performed live. Oh, and without the wigs. "It turns out that our approach is the very thing that separates us from all the other Zeppelin acts out there. I'd like to say that it was a real savvy business decision, but truth be told it's just the only way I could see doing it."
This is not an impersonator act but rather a group of musicians who were fans first, striving to do justice to one of the greatest bands in rock history. And the critics are raving. The Patriot News, Central Pennsylvania's leading news source that reaches nearly a half-million weekly readers, heralds, "Get The Led Out didn't just pass Zeppelin 101 with flying colors -- they're working on their Ph.D. They didn't just do their Zep homework -- they're teaching the class."
####
About DPAC
Since its opening in 2008, DPAC, Durham Performing Arts Center, has become the center for live entertainment in the Triangle. Recognized for its contemporary design, DPAC features 2,700 seats, intimate sightlines and state-of-the art sound and video. Listed four times in the top 10 in Pollstar magazine's annual worldwide theater attendance rankings, DPAC is currently the #3 ranked theater in the U.S.
What is up next at DPAC? Guest Host of Comedy Central's "The Daily Show with Jon Stewart" JOHN OLIVER (November 9), Broadway's Best New Love Story GHOST THE MUSICAL (November 12-17), followed by American singer-songwriter AMOS LEE (November 18).
For more information please go to http://www.DPACnc.com.