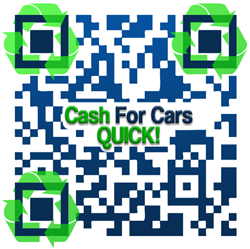 Get a guaranteed quote for cars and trucks from the Austin's largest buyer Cash for Cars Quick
Austin, Texas (PRWEB) August 01, 2013
Great news for Austin Texas residents wanting to get fast cash for their old vehicles parked in yards or for used autos taking up garage space. A quick, toll-free phone call will produce a guaranteed price quote on any vehicle regardless of the make, age or model. Cash for Cars Quick has announced their easy to sell campaign for new guaranteed auto sales quotes right over the phone. Furthermore, once the deal is accepted, the guaranteed quote amount is delivered to the seller in person in around an hour. The company's vast Austin automotive network of partners will also haul away the used autos and recycle or resell them free of charge to the sellers. There is no easier or faster way to convert junked or wrecked autos and used cars and trucks into fast cash. To find out how to sell a car or truck with a price quote guarantee contact the local office here: http://www.austincashforcarsquick.com/about-us/
The announcement by Cash for Cars Quick of their guaranteed price quotes on used cars and trucks in just minutes is good news for Austin residents. Those who have old junk vehicles sitting in their yards or used autos taking up garage space can now eliminate them while getting handfuls of cash from the deals. The company has service locations throughout the city for speedy service for their clients. Most junk auto owners simply have a salvage company tow them away for no or little payment just to get rid of them. However, junk and wrecked autos contain reusable parts and recyclable metals that are valuable to auto resale companies. Cash for Cars Quick is nation's largest buyer of junk and wrecked cars and trucks and they use their vast network of automotive partners to provide fast cash quotes and payments as well as the speedy elimination of the vehicles from properties by using their many service locations.
The well known auto buyer also has a reputation for removing toxic automotive waste products and disposing of them according to required guidelines. Therefore, Austin junk auto owners can not only get fast guaranteed quotes and cash payments for their vehicles, but they can have them quickly hauled away and their sites. Austin used car and truck owners can also get guaranteed price quotes in a few minutes by calling the toll-free 888-862-3001. Instead of hassling with trying to sell them through classified ads, or losing a significant portion of their value through shady auto dealerships, local residents can instead get a fair guaranteed price quote and a handful of cash in about an hour for their used vehicles. The payment can then be used to place as a down payment on a new car or truck, thus receiving a much better deal than can be obtained with a trade-in. The extra cash received from Austin used, junk, or wrecked vehicles can go a long way in a struggling economy. Needed items can be purchased, children's tuitions paid, bills caught up, vacations taken and more, all with cash gained from liquidating junk or used autos.
Cash for Cars Quick is the leading used and junk auto buyer in the nation. The company has years of experience purchasing autos as well as cleaning junk auto sites of leaked or spilled toxic waste. The auto buyer uses its extensive network of national and local automotive partners to haul and distribute purchased autos as well as either recycle or reprocess them for resale. Further information can be found out about the company by calling their toll-free number (888-862-3001), or by visiting their website (http://cashforcarsquick.com/).
The local office works with the top SEO professionals from http://www.knackmedia.com to help with the cash for cars service promote the message about the importance of utilizing a reputable cash for cars Austin Texas company if a vehicle owner is considering selling their car or truck. Cash for Cars Quick continues its online presence by offering an instant quote over the phone, and regularly posts auto recycling information on the company blog and social media pages. By utilizing a SEO company to promote online, along with instant pricing, the company hopes to acquire more Austin Texas residents looking to sell their vehicle. To read more on the company's cash for cars Austin TX Facebook page visit, https://www.facebook.com/CashForCarsAustin.
About the Company:
Cashforcarsquick.com is a growing cash for junk cars service that offers junk car recycling and that provides a high return to the car and truck owners in Austin and throughout the United States. The company and its partners follow environmentally friendly disposal practices to safeguard the future of the planet. To learn more about selling a car in Austin TX visit the company website or call the corporate office.
Contact:
William Leonard
Phone: 888-862-3001
Email: info(at)cashforcarsquick(dot)com