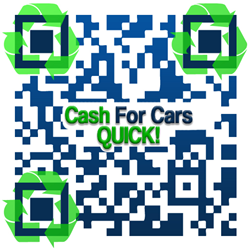 Get a guaranteed quote for all used cars and trucks, running or not. Charlotte's #1 buyer Cash for Cars Quick pays more!
(PRWEB) August 04, 2013
It can be tough coming up with extra cash in a bad economy, but many people in Charlotte have overlooked treasures sitting right in their lawns or garages. Those old, junk or wrecked vehicles sitting idle and ugly in yards and those unwanted used cars and trucks taking up space in garages can be liquidated rapidly into cold, hard cash. Cash for Cars Quick is the leading junk and used auto buyer in the country and they now provide a new price quote guaranteed for Charlotte junk and used cars over the phone. When quotes are accepted, they deliver cash right into the hands of vehicle sellers in around an hour's time.
The extremely popular auto buying company has made the announcement that auto owners can get fast guaranteed price quotes for their unwanted junk, wrecked, or used cars and trucks by make a fast and free toll-free call. By calling 888-862-3001, Charlotte auto owners can get guaranteed quotes in only a few minutes for any make, model, year, or condition of automobile, whether it is running or not. Accepting the offer sets the wheels of the cash for cars network into rapid motion. Within an hour, the guaranteed price is delivered in cash to the seller. The cash for junk car Charlotte representative and the seller then set a date for pickup of the vehicle. If it runs, it will simply be driven away. If, however, the junk or wreck is not in running condition, arrangements will be made for it to be hauled away by one of Cash for Cars Quick's towing partners. Junk and wrecked autos are scrapped for salvageable parts and metals and used vehicles are refurbished and resold by car lot owners.
It is a fact that old wrecked or junk autos sitting on properties for long periods of time end up leaking various toxic materials onto their sites. This is a subject that Cash for Cars Quick takes seriously. When junk vehicles are moved and hauled away, sites are removed of any future leaks from automotive waste materials that can be a danger to the environment. The company's affiliates have years of experience handling and disposing of such toxic materials and are well known across the nation for their environmental work. The company also takes pride in assisting the environment through their auto recycling business which eliminates the need for new raw materials from being harvested to meet new auto and auto part demands. The automotive partners of Cash for Cars Quick resell used autos and recycle junks and wrecks for resalable parts and scrap metals.
Advantages are held by both Charlotte junk auto owners as well as used auto owners. Local junk auto owners get rid of ugly vehicles that become overgrown with weeds and draw unhealthy pests. The money gained can be used in other areas. Used auto owners get paid fair prices for cars and trucks. Normally, vehicle owners would have to try to sell used autos through classified ads which can be irritating and time consuming, or they might consider trading them in on new autos. The problem with trade-ins is that dealerships use them to take advantage of owners and offer reduced values. Cash from used vehicles can be used as down payment for better deals on new vehicles.
As a leader in the used auto-buying industry, Cash for Cars Quick is well known for providing fast quotes and cash payments for purchased used and junk cars and trucks. Their vast automotive network of partners means they can deliver service rapidly which has made them highly popular with auto sellers throughout the country. The auto firm uses the best internet marketing company to help with the cash for cars service promote the message about the importance of utilizing a reputable company if a vehicle owner is considering selling their car or truck. Cash for Cars Quick continues its online presence by offering an instant quote over the phone, and regularly posts auto recycling information on the company blog and social media pages. By utilizing the top local SEO company along with instant pricing the company hopes to attract more Charlotte North Carolina residents looking to sell their vehicle. To read more on the company's cash for cars, Charlotte NC YouTube channel here: https://www.youtube.com/user/cashforcarscharlotte.
About the Company:
Cashforcarsquick.com is a growing junk cars for cash service that offers junk car recycling and that provides a high return to the car and truck owners in Charlotte and throughout the United States. The company and its partners follow environmentally friendly disposal practices to safeguard the future of the planet. To learn more about how to sell a car in Charlotte NC service visit the company website or call the corporate office.
Contact:
William Leonard
Phone: 888-862-3001
Email: info(at)cashforcarsquick(dot)com