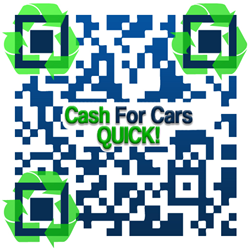 Get a guaranteed quote for all used cars and trucks in Cincinnati Ohio from CashforCarsquick.com.
Cincinnati, Ohio (PRWEB) August 06, 2013
The announcement made by Cash for Cars Quick that Cincinnati vehicle owners can get a guaranteed quote in just minutes means they can sell their unwanted cars and trucks rapidly for cash. In this uncertain economy, getting a large dose of fast cash is a welcome experience. Now, those living in the Cincinnati Ohio can liquidate their old junk or used autos for a guaranteed price from the leading buyer of used vehicles in the country. Everything is quick about the leading used and junk auto buyer in the nation Cash for Cars Quick, even their name. By quickly contacting the popular auto buyer either through their website (http://cashforcarsquick.com/) or toll free number (888-862-3001), Cincinnati residents can get quotes on their unwanted cars and trucks that are not only quick, but are also guaranteed. Within only a few minutes, guaranteed quotes are provided and, when they are accepted, the amounts are rushed to the seller quickly, usually in around an hour, in cash. To speak with a representative from the local office visit, http://autostate.net/cash-for-cars-cincinnati/.
The rapid service doesn't stop there, sold autos are also picked up quickly, whether they are driven away or are not in running order and require towing. Cash for Cars Quick has an extensive network of automotive affiliates in the Cincinnati area that will tow their vehicles away after sale completely free. Wrecked and junk autos are hauled away to salvage yards where they are stripped of resalable parts and scrap metal, and used vehicles are sent to used auto sales lots where they are refurbished and resold. Nothing goes to waste in the cash for junk car Cincinnati network.
Cincinnati auto owners who sell their junk or wrecked vehicles to the company also get their junk auto sites professionally removed of any future leaks. Such materials are toxic and can cause a great deal of harm to the environment. The auto buyer's network ensures that all leaked toxic waste is removed from the sites and disposed of properly. The popular company has years of extensive experience and is widely respected for its work in cleaning up the environment. Even their partner's practice the recycling of junk and used autos prevents the mining of raw materials that are required to build new autos.
Every customer experience with the company is both quick and profitable. The company prides itself in delivering the best and fastest service to both Cincinnati auto sellers as well as those located in cities across the country. They also provide guaranteed quotes on all vehicles regardless of their make, model and year, or whether they are in running condition or not. Regardless of the condition of the vehicles, they have some value just from the salvageable parts and materials.
One of the main reasons that the company can offer such rapid guaranteed quotes, payments and service to Cincinnati residents and other customers is due to their vast automotive network. The cash for car network extends across the country and their partners are constantly looking for junk and used vehicles to salvage or resell. When customers call, the company simply goes to their database and finds the value of the vehicle based on partner demand and provides a guaranteed quote in only a few minutes.
Cash for Cars Quick is the nation's number one used auto buyer with a vast network of automotive partners located in cities across the country. They provide rapid quotes, cash payments and free hauling of non-running vehicles. Sites are also cleaned of toxic automotive waste. The best internet marketer in the US is being used by the local office to help with the car and truck buyer promote the message about the importance of utilizing a reputable Cincinnati Ohio automotive Company if a vehicle owner is considering selling their car or truck. Cash for Cars Quick continues its online presence by offering an instant quote over the phone, and regularly posts auto recycling information on the company blog and social media pages. By using the top a professional search engine optimization company, along with instant pricing the company hopes to attract more Cincinnati Ohio residents looking to sell their vehicle. To read more on the company's cash for cars Cincinnati Facebook page visit, http://www.facebook.com/CashForCarsCincinnati.
About the Company:
Cashforcarsquick.com is a growing cash for junk car operation that offers junk car recycling and that provides a high return to the car and truck owners in Cincinnati and throughout the United States. The company and its partners follow environmentally friendly disposal practices to safeguard the future of the planet. To learn more about how to sell a car in Cincinnati OH service visit the company website or call the corporate office.
Contact:
William Leonard
Phone: 888-862-3001
Email: info(at)cashforcarsquick(dot)com