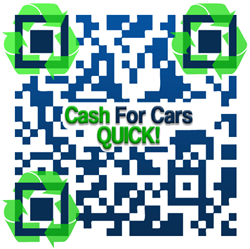 Get a guaranteed quote for any used car or truck from Cash for Cars Quick! 888-862-3001
(PRWEB) August 17, 2013
One of the top auto buyers in the country is announcing their new rapid quote guarantee in Louisville for their junk or wrecked autos as well as their used cars and trucks. One phone call gets guaranteed quotes on any make, model or year of car or truck regardless of its condition from Cash for Cars Quick in a matter of minutes. The popular auto buying company then rushes the guaranteed payments directly to the seller in about an hour. This is a great opportunity for Louisville residents to eliminate rusty, ugly junk cars from their properties, or easily get rid of used vehicles, while getting fast cash payments for them. This is the perfect opportunity for local residents to get rid of junk autos on their properties or to liquidate used vehicles for guaranteed cash payments. To find out how selling a car can be fast and easy, call the office at 888-862-3001 and receive an instant guaranteed quote.
Cash for Cars Quick wishes to make vehicle owners aware that they can get instant guaranteed quotes for their used and junk autos by making a simple phone call to the popular car buying company. All that is required is to provide background information on the vehicles that are desired to be sold, and a company representative will provide a guaranteed quote within minutes. Accept the offer and another company representative from one of the Louisville service locations will make the guaranteed payment delivery in an about an hour or less.
Junk and wrecked automobiles have a way of finding refuge on owner lots once they become inoperable. These old junk vehicles end up taking space, being overcome with weeds, drawing unwanted pests and looking unsightly overall. However, the cash for junk car Louisville office wants to offer a guaranteed quote for such unwanted and unused cars and trucks that have made their way to auto graveyards. Such vehicles contain reusable parts and scrap metal which are needed by recycling companies and therefore, have value. The company has a very large database of partners and affiliates in cities across the US that are seeking a host of different used auto parts and scrap metal. For this reason, the company can provide an immediate guaranteed quote on any make or model of auto regardless of its year or condition. It can be difficult to sell junk vehicles normally, but a quick call to the junk car buyers garners a guaranteed quote for such autos in a matter of minutes.
Once the guaranteed offer is accepted, the cash amount that was guaranteed to the caller is rushed to them and arrives in around an hour's time. The junk is then scheduled for pickup at the seller's convenience and a Louisville towing company partnered with the local office will tow it away for free. What's more, the site is removed of any toxic waste that could leak, and all acids and fluids are then professionally disposed of. Used car owners also get great deals from Cash for Cars Quick. The leading used auto buyer provides guaranteed quotes on used cars and trucks and them processes them through their vast automotive partner network. Therefore, regardless of the make, model, or age of the vehicle, cash payments are guaranteed and provided rapidly. Used cars and trucks are taken to Louisville used car lots or those in other locations to be refurbished and resold.
All types of cars and trucks can be rapidly liquidated by making a simple toll free call to the company. The used and junk auto buyer is a leader in the industry and provides guaranteed quotes, fast cash payments, free removal of unwanted autos in major cities across the nation. The company uses the best search engine optimization company to assist with the promotion about the importance of utilizing a reputable cash for cars Louisville Kentucky Company, if a vehicle owner is considering selling their car or truck. Cash for Cars Quick continues its online presence by offering an instant quote over the phone, and regularly posts auto recycling information on the company blog and social media pages. By working with the top local SEO company to promote on the web, along with instant pricing, the company hopes to attract more residents looking to sell their vehicle. To read more on the company's cash for cars Louisville Facebook page visit, http://www.facebook.com/CashForCarsLouisville.
About the Company:
Cashforcarsquick.com is a growing fast cash for junk car service that offers junk car recycling and that provides a high return to the car and truck owners in Louisville and throughout the United States. The company and its partners follow environmentally friendly disposal practices to safeguard the future of the planet. To learn more about the junk car for cash service visit the company website or call the corporate office.
Contact:
William Leonard