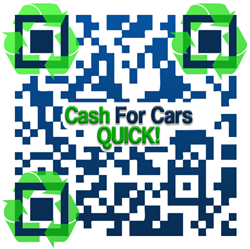 Get a guaranteed quote for all used cars and trucks from the city's largest buyer Cash for Cars Quick! 888-862-3001
Milwaukee, WI (PRWEB) August 19, 2013
Now is the time to get cash from unwanted wrecked, junk and used cars and trucks while at the same time ridding properties of their unsightly presence. The company Cash for Cars Quick is announcing their new price quote guarantee in Milwaukee for all vehicles, and delivered within minutes. Ugly junk vehicles taking up yard space, and used autos no longer wanted, can now be rapidly sold for a guaranteed price by the leading used auto buyer in the nation. A simple toll free call can get Milwaukee auto owners a fistful of cash for vehicles that are no longer needed or wanted. To find out how to sell a car fast to the local office, call them directly at 888-862-3001.
Local residents are being made aware of a fantastic opportunity to not only get rid of unwanted cars and trucks taking up valuable space, but to also make a good chunk of money in the process. Cash for Cars Quick is announcing their rapid guaranteed price quotes for used or junk cars and trucks provided right over the phone and within minutes. The process also is fast, as used vehicle owners only have to provide the required info on the autos they want to sell, and guaranteed quotes are available in only a few minutes. All that is required afterwards is to accept the offer, and the guaranteed price is delivered directly to the auto seller. That equals fast quotes and fast guaranteed payments for Milwaukee residents.
Once the deal has been made and the money exchanged, arrangements are made to remove autos from the sellers. Running vehicles are driven away, but those that are non-running are scheduled for pickup at the seller's convenience. A representative from the cash for junk car Milwaukee office makes contact with one of the company's towing partners for removal on the agreed upon date. Cash for Cars Quick is well known for protecting the environment through their free automotive toxic waste removal services.
Used car sellers will also appreciate the services of the auto buyer since the company supplies fair market prices for any used car or truck unwanted by Milwaukee owners. It can be quite difficult and time consuming to sell used vehicles. Want ads have to be posted and paid for, and a seemingly endless phone calls and visitations have to be attended to in order to sell unwanted autos. However, the same quick call can get used auto owners guaranteed quotes and fast cash payments for their unwanted cars and trucks. That money can be used for other purposes, or it can be placed as a nice down payment on new cars or trucks. It is well known that auto dealerships offer only a fraction of the value for trade-ins, so doing business with the company provides local residents with quite the advantage. The payments from the company can be used as a down payment will get them a much better deal than trading the auto in. All auto sellers need to do is call 888-862-3001 to receive guaranteed quotes for their vehicles, regardless of year, make, model, or condition. The local auto buying operation has many service locations in Milwaukee to provide fast pick-ups and payments.
When it comes to buying used and junk cars and trucks, Cash for Cars Quick is the solution. Their vast experience and rapid response has made them one of the most popular car buyers in the country. The auto buyer uses the service of a professional internet marketer to in promote the message about the importance of contacting a reputable cash for car Milwaukee service, if someone is considering selling their car or truck. Cash for Cars Quick continues its online presence by offering an instant quote over the phone, and regularly posts auto recycling information on the company blog and social media pages. By working with the top SEO professional to promote online, the automotive company hopes to entice more local car and truck owners to sell their vehicle to the company. To read more on the local office's cash for cars Milwaukee Facebook page visit, http://www.facebook.com/CashForCarsMilwaukee.
About the Company: Cashforcarsquick.com is a growing cash for junk cars service that offers junk car recycling and that provides a high return to the car and truck owners in Milwaukee and throughout the United States. The company and its partners follow environmentally friendly disposal practices to safeguard the future of the planet. To learn more about the fast cash for junk cars Milwaukee Wisconsin service visit the company website.
Contact:
William Leonard
Phone: 888-862-3001
Email: info(at)cashforcarsquick(dot)com