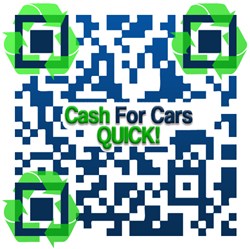 Get a guaranteed quote in Las Vegas from Cash for Cars Quick 888-862-3001
Las Vegas, NV (PRWEB) August 15, 2013
Cash for Cars Quick has taken all the risk out of getting good deals on used cars and trucks as well as old junk and wrecked autos that no longer run in Las Vegas. A quick phone call can garner a guaranteed quote on any make or model of vehicle regardless of its running condition. Once the offer is accepted, the guaranteed cash payment is delivered by a representative of the leading national auto buyer in about an hour. That's a win-win situation for Las Vegas residents wanting to cash in on their unwanted vehicles whether they are used or junks. Non-running vehicles are towed away for free and all vehicles sites are professionally rid of any leaked toxic substances. To learn more about the new price guarantee from the cash for car Las Vegas office visit, http://www.lasvegascashforcarsquick.com/guarantee
The smart gambler won't bet unless it's a sure thing. Cash for Cars Quick, the leading used car buyer in the country, has provided Las Vegas auto owners with such a sure bet for fast cash winnings. The popular car buying company has announced that they are providing guaranteed quotes on all automobiles. To get in on this great offer, local residents only have to make a call to the Cash for Cars Quick toll-free phone line of 888-862-3001, provide some background information on the autos they have for sale and in a matter of minutes guaranteed quotes will be given. The company has many service locations in Las Vegas for fast pick-ups and payments. It doesn't matter the age or condition of vehicles as all makes and models are considered and provided with guaranteed quotes regardless of their conditions. To sell a junk car in Las Vegas Nevada for the most cash, contact the local office directly.
Not only are quotes both guaranteed and quick, but the delivery of cash once the deal has been accepted is fast as well. In an hour or so, the guaranteed cash amount is whisked to the seller for personal delivery by a representative of the leading auto buyer, Cash for Cars Quick. The representative will then proceed to make arrangements to drive the auto away or, if it doesn't run, to have it towed away for free. The Las Vegas cash for cars office can deliver such fast service because of its wide network of auto partnerships and affiliates that are eagerly seeking resalable auto parts, auto scrap metal and used vehicles. The company's database is filled with affiliates such as tow companies, salvage companies, used auto lots and more seeking used and junk vehicles for recycling and refurbishing. This large nationwide network means local auto sellers can get rapid quotes that are guaranteed, fast cash deliveries and quick removal of their sold cars and trucks. However, the winnings don't stop there for Las Vegas auto sellers. All junk, wrecked and used car sites are completely purged of any automobile waste substances that may have leaked out. These materials are quite toxic to the environment and can even cause harm to small children and pets of owners and their neighbors. Cash for Cars Quick is well known for removing junk vehicles they have purchased leaving the areas clean and pristine.
Cash for Cars Quick is popular throughout cities across the US due to their rapid and committed service. They provide guaranteed quotes within minutes over the phone as well as cash payments in around an hour. Junk auto are towed away and sites are also cleaned up of toxic automotive waste for free. The automobile company uses the best SEO professional to help with the auto buyer promote the message about the importance of using a reputable cash for cars Las Vegas Nevada Company if a vehicle owner is considering selling their car or truck. The company continues its online presence by offering an instant quote over the phone, and regularly posts auto recycling information on the company blog and social media pages. By working with an affordable search engine optimization company to promote the services, along with instant pricing the company hopes to attract more Las Vegas Nevada residents looking to sell their vehicle. To read more on the company's cash for cars Las Vegas Facebook page visit, http://www.facebook.com/CashForCarsLasVegas.
About the Company: Cashforcarsquick.com is a growing fast cash for junk cars service that offers junk car recycling and that provides a high return to the car and truck owners in Las Vegas and throughout the United States. The company and its partners follow environmentally friendly disposal practices to safeguard the future of the planet. To learn more about the best cash for cars Las Vegas NV service visit the company website or call the corporate office.
Contact:
William Leonard
Phone: 888-862-3001
Email: info(at)cashforcarsquick(dot)com