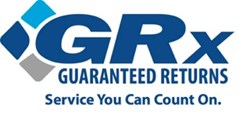 I am excited to be working for the pharmaceutical returns industry founder
Holbrook, New York (PRWEB) November 21, 2013
Guaranteed Returns® is pleased to announce that Scott Goldfarb has joined their team as National Accounts Manager (NAM). In this role, Scott will maintain and develop existing and new accounts. He will also continue to build successful partnerships with hospitals, GPOs, IDNs and retail pharmacies that require pharmaceutical returns and inventory management services.
Scott brings with him over 10 years of account management experience. He was most recently with Henry Schein, the largest provider of health care products and services to office-based practitioners, where he held the title of Product Category Manager for both Medical and Dental Divisions.
Scott holds a Bachelor of Science degree in Marketing and a Masters of Business Administration degree focused in Management Information Systems, both from Binghamton University in New York.
Scott says "I am excited to be working for the pharmaceutical returns industry founder and leader."
About Guaranteed Returns®
For over 25 years, Guaranteed Returns® has provided pharmaceutical return services to hospital, government, independent retail, chain-store, LTC, Mail-Order and clinic pharmacies. Local GRx on-site service representatives are highly valued by customers for their professionalism, trustworthiness and for "going above and beyond".
Business review consultations, inventory management assistance and unbeatable customer service are just a few of the attributes that customers say sets GRx apart.
Contact Guaranteed Returns® at 1-800-473-2138, on LinkedIn or at http://www.guaranteedreturns.com.