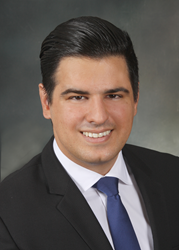 Sasha is a consummate aviation professional, someone who lives and breathes this industry and everything that it stands for," said Don Dwyer, Guardian Jet LLC.
Guilford, Connecticut (PRWEB) April 07, 2017
Aviation professional Sasha Khounani was recently named Marketing Specialist for Guardian Jet LLC (guardianjet.com), the Guilford, Connecticut-based business aviation consulting and brokerage firm.
In his new position, Sasha will lead many of Guardian Jet's efforts to identify new business opportunities and build relationships with business aviation clients and aircraft brokers. Additionally, he will lead the company's market research function, support all major business jet transactions and maintain specifications on all aircraft for sale or lease.
Don Dwyer, Managing Partner of Guardian Jet LLC, expressed enthusiasm for Khounani's appointment and his potential role with the company. "Sasha is a consummate aviation professional, someone who lives and breathes this industry and everything that it stands for," Dywer said. "He's going to make a major contribution in our efforts to build an ever greater business at Guardian Jet."
Prior to joining Guardian Jet, Khounani spent several years in international finance and sales and marketing for The Boeing Company. Beginning as an intern at Boeing before being accepted in the company's prestigious "fast-track" program for promising young executives, Khounani soon gained significant experience appraising, estimating and pricing, and marketing commercial aircraft and military weapons systems. He also handled contract negotiations for many of Boeing's international sales programs.
From his late teens onward, Khounani spent many years working in his family's luxury automobile sales business, where he marketed such high-end brands as Porsche, Ferrari, Lamborghini, Maserati, Bentley, Rolls Royce, Audi, Mercedes and BMW.
Khounani earned a Bachelor of Science degree in Aviation Business Administration from Embry-Riddle Aeronautical University in Prescott, Arizona. He is a private pilot, with experience flying a variety of small aircraft, as well as Citation jets.
"The two things that get me excited about marketing and selling business jets are the products and the clients," Khounani says about his new position. "In a niche industry like business aviation, our clients are highly successful individuals—as well as corporations—and I enjoy learning from their unique experiences."
About Guardian Jet LLC
Founded in 2002, Guardian Jet offers business aviation brokerage, consulting and oversight services for thousands of clients worldwide. The company distinguishes itself with its focus on integrity and industry expertise, and by consistently providing business value to clients. Guardian Jet's core mission is to earn the right to buy and sell aircraft on behalf of its clientele by providing great consulting advice, market intelligence and flawless execution. For more information, visit guardianjet.com.