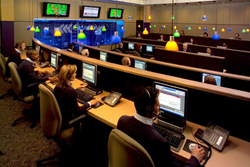 "Being considered best in class in terms of our monitoring station is a milestone achievement for a company in the security systems industry." -Joe Colosimo, president, Guardian Protection Services
Pittsburgh, Pennsylvania (PRWEB) August 11, 2015
Security system owners who have been frightened by a potential intrusion, experienced a fire or needed an EMS team to be notified for help, understand the importance of the quality of the system's monitoring service. The monitoring service provided by Guardian Protection Services, Inc. has been recognized by the Central Station Alarm Association (CSAA) in its selection of Guardian's 24-hour alarm monitoring center as "2015 Central Station of the Year".
Only one central monitoring station is chosen nationally each year for the prestigious award. According to the CSAA, the award demonstrates the outstanding level of professionalism of personnel, service to customers and community and overall contribution to the betterment of the alarm industry and the alarm profession. Guardian monitors clients in all 50 states, the U.S. Virgin Islands and Puerto Rico.
Intruders have been apprehended thanks to the fast action of police departments upon receiving vital information from Guardian's monitoring center, and there are numerous instances of EMS teams reacting quickly to Guardian's notification and transporting children and seniors to the emergency room in time to avoid more serious complications.
Upon receiving an emergency signal, Guardian initiates a response within an average of 30 seconds, leveraging its monitoring platform which operates on digital dialer, cellular and broadband communications paths. These are supported by an infrastructure that incorporates a Synchronous Optical Networking (SONET) within the architecture, built in partnership with Guardian's parent company, Armstrong. This, in addition to Guardian being able to leverage over 70 highly skilled, full-time company I.T. professionals 24 hours a day to support the operation, has resulted in Guardian being able to provide its customers with unrivaled stability. "Our I.T. group is second to none and is comprised of a dedicated group of technical experts that keep Guardian central station systems running reliably and efficiently," stated Mike Overby, vice president of customer service.
According to Jason Bradley, director of central station operations, a Disaster Recovery Plan is in place to support this critical, fully redundant communications ecosystem supported by the presence of multiple generators and an uninterruptible power supply. "The DRP addresses natural, environmental and man-made (intentional and unintentional) disasters and is designed to mitigate risk by providing the safest environment for Guardian employees and delivering operational continuity for customers," Bradley commented.
Joe Colosimo, president of Guardian Protection Services stated that, "Being considered best in class in terms of our monitoring station is a milestone achievement for a company in the security systems industry. We market, we sell, we install. But at the end of the day, why do we do it? We do it so that we can monitor our customers with the goal of helping to save lives and keep homes and businesses safe. This is quite an honor."
Guardian's central station operation employs 85, consisting of operators, supervisors and a team of individuals who work behind the scenes entering data related to permits, responding authorities and responding agency protocols. The average tenure is six years which results in a remarkable level of uniformity and excellence in service. Guardian achieves its low turnover rate by shaping the role as a career position from the perspective of training, support and income.
Mike Overby, commented, "The entire Guardian Protection Services team is honored to receive this prestigious recognition. The Central Station of the Year Award embodies the CSAA's dedication to the electronic security industry and exemplifies the unwavering effort of each Guardian employee in the pursuit of the delivery of unparalleled excellence. I want to commend Guardian's Central Station teams, led by Jason Bradley, Guardian's Director of Central Station Operations; I know that they are especially proud and humbled by this award."
Company Information:
Guardian Protection Services is one of Armstrong Group of Companies and provides its monitoring services to more than a quarter-million residential and commercial clients throughout the U.S. Along with security monitoring, Guardian provides home automation and business security services. The company was founded in 1950 in Pittsburgh, Pennsylvania. For more information, visit GuardianProtection.com.