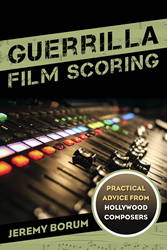 "Jeremy Borum argues with electrifying clarity that a film composer today must be a warrior with a multitude of survival skills." — Bill Elliott, Professor, Berklee College of Music
Los Angeles, CA, March 9, 2015 (PRWEB) March 18, 2015
Jeremy Borum's Guerrilla Film Scoring is the first guide to provide new cutting-edge solutions for composers to deliver quality music with ever-shrinking budgets. Even before its release on April 16, 2015 by Rowman & Littlefield, it already has been chosen as a must-read for composers worldwide by 15 out of the top 25 most influential music universities* such as Juilliard , Yale, USC, Berklee College of Music, and the Royal College of Music (UK). Both professors and professional composers are endorsing this book as the definitive groundbreaking guide to the new film scoring and music landscape.
Borum and 20 of his celebrity colleagues (including Stewart Copeland, Bruce Broughton, Jack Wall, Garry Schyman, and Austin Wintory) successfully navigate the reader through today's volatile music industry. With over 300 written testimonials and a 90 minute documentary film they deliver timely solutions for education, preparation, writing and recording a score, editing, mixing and mastering, finding work, career development, and sample contracts.
"This is not just a book about film music. It is an account of an industry in flux, seen from the standpoint of the men and women who now create the soundtracks for a whole spectrum of new media types. The industry has changed, and this is the first account of how composers have adapted," says Chris Reynolds, Past-President, American Musicological Society, Professor, University of California, Davis.
"Guerrilla Film Scoring contains a lot of practical knowledge, and it systematically breaks down the realities and challenges facing film composers today," says Peter Neff, Professor at UCLA. "The book includes very useful contributions from professionals, and it will certainly be useful to anybody in the field of scoring."
Bill Elliott, professor, Berklee College of Music adds that "Jeremy Borum argues with electrifying clarity that a film composer today must be a warrior with a multitude of survival skills. He and his widely experienced interviewees explain the why and the how, in an essential guide for every practicing and would-be composer for visual media."
A straightforward do-it-yourself manual, this book is helping composers at all levels to create the best-sounding scores quickly and cost effectively without jeopardizing their art. "I really enjoyed this. It's full of no-nonsense, practical advice, much of which is delivered in quotes from composers who do this work for real, every day," adds David Lang, professor at Yale School Of Music.
Release date: April 16, 2015
For further information about the author, please visit http://www.GuerrillaFilmScoring.com and http://www.JeremyBorum.com or contact Antonia Serrell-Watts at +1 310 980 8961 for sales, marketing, and bookings.
*Top 25 music universities as reported by the Hollywood Reporter
http://www.hollywoodreporter.com/news/hollywood-reporter-unveils-top-25-745732
About The Author
Jeremy Borum is a film composer, orchestrator, and music engraver. Among the first wave of working composers to see the digital de-monetization of music as a piece of history, not an ongoing process, he built a successful music career in an uncertain industry that is re-inventing itself. He currently has credits on 15 features, 2 network TV shows, 17 shorts, and 35 albums. An active member of the Society of Composers and Lyricists, he is a contributing author to their quarterly journal The Score. He has worked globally with many major orchestras and studios, recording or performing in about 30 countries to crowds as large as 80,000. He teaches a bi-annual intensive film scoring seminar at Citrus College in Glendora, CA. A do-it-yourself guy to the core, he has also built two studios and custom gear.
Borum is a founding member and co-owner of the digital sheet music publisher ZMX Music. Prior to his time with ZMX he prepared music engravings for many of the largest print music publishers including Hal Leonard, EMI, Edition Peters, Alfred, Morning Star, and others. Thousands of his music engravings are available both digitally and in print worldwide.
Borum studied music at the Colburn School of Music in Los Angeles, CA, Berklee College of Music in Boston, MA, Australian National University in Canberra, Australia, and University of California in Davis, CA.
He is currently living in Los Angeles.