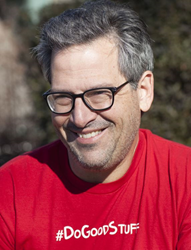 Daytona Beach, FL (PRWEB) April 13, 2017
Guerrilla Marketing has impacted the world of business, entrepreneurship and marketing, since the first book was unleashed in 1984 by Jay Conrad Levinson. The organization created and Co-founded by Jay and his wife Jeannie Levinson has dedicated its pursuits to foster the spirit of Guerrilla tactics in all facets of business and life. Joel Comm is one of the exemplary practitioners being inducted into the Guerrilla Marketing Global Hall of Fame at the Guerrilla Marketing Global Summit in Daytona Beach, Florida May 22-24, 2017. Comm will be joining Guerrilla Marketing's first inductee, New York Times Best-selling author Seth Godin.
"Jay Conrad Levinson and Guerrilla Marketing have led the way and inspired millions of entrepreneurs for decades. I am incredibly honored to be mentioned in the same breath as Jay and his work," says Comm. "I'm grateful to Guerrilla Marketing for recognizing my efforts and hope I can continue creating work that amplifies Jay's legacy."
Jeannie Levinson said, "Joel is a special marketer with a unique perspective and he deserves this prestigious award," she further said, "Joel will be sharing some very special Guerrilla Marketing Weapons and Tactics with the attendees of our Global Summit in Daytona. We can't wait to soak up his wisdom, learn from his experiences and put his strategies to use."
The 2017 Guerrilla Marketing Global Summit will be held at the Shores Resort and Spa in Daytona Beach Shores, Florida on May 22nd through the 24th, 2017. The event brings together small business owners, entrepreneurs, marketing professionals, guerrilla marketing fans and more for three days of education, action and fun. The event is perfect for those new and not so new to guerrilla style marketing and guerrilla style business. The event venue is oceanfront and offers attendees a mix of business, networking and fun.
Tickets for the event are on sale now and early bird pricing expires May 1st, after which the prices go up. To get your early bird ticket, go now to http://www.gmarketing.com/event
About Joel Comm: Joel Comm is NY Times bestselling author, professional keynote speaker, social media marketing strategist, live video expert, brand influencer and futurist. With over two decades of experience harnessing the power of the web, publishing, social media and mobile applications to expand reach and engage in active relationship marketing, Joel is a sought-after public speaker who leaves his audience inspired, entertained, and armed with strategic tools to create highly effective new media campaigns.
About Guerrilla Marketing: The first Guerrilla Marketing book was written by Jay Conrad Levinson and published by Houghton Mifflin in 1984. Today there are 58 volumes in 62 languages, and more than 21 million copies have been sold worldwide. The book is required reading in many MBA programs throughout the world. He taught the topic at the University of California, Berkeley Extension Division. He lectured on it worldwide. His methods, teachings, training and perspective lives strong through this organization and his books, Co-authored books, audio programs, digital training, events, Guerrilla Marketing Master Trainers, Certified Guerrilla Marketing Professionals and more… In the words of the Father of Guerrilla Marketing, Jay Conrad Levinson, this describes guerrilla marketing: "I'm referring to the soul and essence of guerrilla marketing which remain as always — achieving conventional goals, such as profits and joy, with unconventional methods, such as investing energy instead of money."