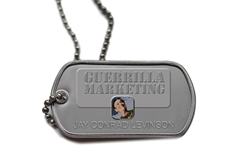 The new partnership with Courtright represents a "first of many" initiatives bringing contemporary Guerrilla Marketing solutions to a wider audience and updating the storied Guerrilla Marketing brand. -Richard Weiler
Minooka, Ill. (PRWEB) September 05, 2014
Businesses today face hundreds of options to increase revenue. Decisions about marketing, positioning, and brand development are widespread and widely varied in cost and results. Determining optimal methods can be a daunting challenge.
Author and consultant Ken Courtright has the answers in his new book, tentatively titled "Guerrilla Marketing Today: New Choices, New Solutions" (Morgan James 2015). Courtright's upcoming book offers insight and advice using contemporary revisions to the low cost, unconventional tactics pioneered by Guerrilla Marketing Int'l founder, the late Jay Conrad Levinson.
"90% of all marketing techniques we use are rooted in Jay's original premise that 'Guerrilla Marketing' is about using tactics that are free or nearly free. We do very little, if any, 'paid-for' marketing." -Ken Courtright
Since 1992, Courtright's companies have helped more than 3100 businesses evaluate options and increase target revenues. His newest company, Income Store, built and marketed more than 400 "Revenue Generating" websites, viewed more than 1 million times annually.
According to current Guerrilla Marketing Expert Advisory Board Member, Richard Weiler, that kind of track record was just what they were looking for to update their content and services. The new partnership with Courtright represents a "first of many" initiatives bringing contemporary Guerrilla Marketing solutions to a wider audience and updating the storied Guerrilla Marketing brand.
The world of business, and marketing in particular, has changed due to the growth of the Internet, social media and a wide variety of other digital options to reach clients and customers. Ken's remarkable "Real-World" results in this growth space make him the perfect author to update the Guerrilla Marketing legacy. Ken has successfully grown businesses in this new environment, in almost every industry. And when we realized Ken's company, Today's Growth Consultant, was named by Inc. Magazine as one of the 1100 fastest-growing U.S. companies, we knew he was the right fit for Guerrilla and our new direction –Richard Weiler, Guerrilla Marketing Int'l.
Courtright's book and associated informational seminars are expected to help showcase the many new services offered by Guerrilla Marketing Int'l for those seeking cost-effective techniques to increase bottom line revenues. Additional services planned for the renewed Guerrilla Marketing franchise include workshops, mentoring and exclusive Guerrilla Marketing digital content.
CONTACT:
Jeffrey Ranta – 803 600 3091
jeff(at)bigfishadpr(dot)com
For more information on Guerrilla Marketing Int'l and their upcoming events visit http://www.gmarketing.com.
For more information about Ken Courtight's new book, visit http://www.incomestore.com.
To obtain a review copy of Guerrilla Marketing Today: New Choices, New Solutions, contact: Jeff Ranta, jeff(at)bigfishadpr(dot)com.
2/2/2 Guerrilla Marketing New Choices Book
About Today's Growth Consultant and Associated Companies:
Ken Courtright, an award winning and best selling author, is the founder of Today's Growth Consultant and Income Store. Both companies serve to help individuals, companies and private equity firms generate additional revenue streams for their household or business. Courtright's companies own and operate over 400 revenue generating websites with close to 100 industry experts, business owners and thought leaders. The majority of their websites are built from scratch, yet after only a few years, Courtright's group of sites are now seen over 100 million times each year, with a website portfolio growth rate of 160,000 annual views each day. Income Store pays out seven figures in shared revenues each year to it's website partners.
For more information about Ken Courtright visit http://www.incomestore.com.
About Guerrilla Marketing International:
Guerrilla Marketing is a household name for unconventional tactics reaching businesses across a broad selection of sectors with low cost, unconventional but highly effective marketing techniques.
Made famous by the late Jay Conrad Levinson, Guerrilla Marketing Int'l offers branding and marketing philosophies that specialize in "leveling the playing field" between the small and medium business and the large brand. For those interested in growing their brand at low cost, Guerrilla Marketing offers a series of engagement opportunities ranging from self-guided media materials through workshops, seminars, and meetings all the way up to one-on-one mentoring with some of the most recognized business leaders. For more information about Guerrilla Marketing and education opportunities, contact: Amy Levinson, Executive Vice President and Co-Owner, olympiagal(at)aol(dot)com