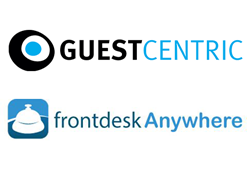 GuestCentric and Frontdesk Anywhere bring the hospitality industry finally a single platform to manage, market and distribute independent hotels
New York, NY and San Francisco, CA (PRWEB) August 26, 2015
GuestCentric, the leading provider of cloud-based digital marketing software for hotels, today announced a partnership with Frontdesk Anywhere to offer an integrated hotel management and marketing platform in the cloud. Through this partnership, independent hotels in the US and Europe will have access to an all-in-one platform to centrally manage their marketing and online distribution, front desk operations, rates and inventory and guest communication.
Frontdesk Anywhere is an award-winning web-based hotel management software company that was born with the mission to provide hoteliers with a first-class PMS solution, helping them to run their operations in a more accurate and efficient way. Based in the heart of the Silicon Valley, in San Francisco, Frontdesk Anywhere serves more than 1,000 hotels in over 45 countries.
"We set out to create with GuestCentric a unique solution to not only improve hotel operational efficiency, but also to make a lot easier the extremely difficult task of marketing and selling independent hotel rooms," said Thomas Lyle, co-founder of Frontdesk Anywhere. "GuestCentric and Frontdesk Anywhere bring the hospitality industry finally a single platform to manage, market and distribute independent hotels".
GuestCentric is an award-winning leader in both design and innovation, recognized with over 100 international awards. Focused on revenue generation with simplicity and ease-of-use, its innovative digital marketing software provides all features needed for hotel digital marketing success: sales-oriented and responsive websites, user-friendly booking engine mobile-optimized for hundreds of devices, a channel manager with access to over 400 integrations, social marketing, SEO optimization and extensive reporting and analytics.
"The beauty of this partnership with Frontdesk Anywhere is its simplicity. We can now provide hotels worldwide a single cloud-based platform that will allow them not only run their properties in an effortless way but also to improve and maximize brand exposure," said Pedro Colaco, CEO of GuestCentric. "This partnership between GuestCentric and Frontdesk Anywhere will allow independent hoteliers worldwide to finally focus on providing guests a memorable experience".
###
About GuestCentric
GuestCentric is a leading provider of cloud-based digital marketing software that helps hoteliers protect their brands, drive bookings and connect to their customers on all digital platforms. GuestCentric's all-in-one platform provides hoteliers with award-winning responsive web sites for mobile, tablets and desktops; a user-friendly booking engine; a social marketing module to publish deals on Facebook, Twitter and other social networks; and a channel manager to offer rooms on Booking, Expedia, TripAdvisor and hundreds of other channels. GuestCentric has operations in New York, San Diego, London, Barcelona and Lisbon and is a proud partner of hotels that are part of collections like Design Hotels, Small Luxury Hotels, Leading Hotels of the World and Relais & Chateaux. For more information, please visit http://www.guestcentric.com
About Frontdesk Anywhere
Frontdesk Anywhere is a leading provider of innovative hotel management software for independent properties. The company is focused on converging processes traditionally performed by separate systems into a single all-in-one productivity application. All modules are seamlessly integrated within the application and accessible from any computer or connected mobile device. The company is a privately held corporation based in San Francisco, California. For more information check out: http://www.FrontdeskAnywhere.com