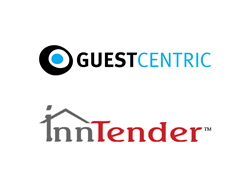 With this integration, not only will hoteliers run their operations in a more efficient way, but they will also easily market their brands and sell their hotel rooms online with GuestCentric's first-class digital marketing solution
New York, NY (PRWEB) September 15, 2015
GuestCentric, the leading provider of cloud-based digital marketing software for hotels, today announced that it has been selected by InnTender as a preferred partner for hotel digital marketing. Through this partnership, hoteliers in the US will have access to GuestCentric's digital marketing tools and services directly on InnTender's hotel management system.
Established in 2005 by a team of seasoned executives, InnTender is a premier provider of web-based hotel management software. Designed with simplicity and ease of use in mind, InnTender software provides hoteliers with a solution that allows them to centrally manage font desk, rates and inventory, GDS capabilities and guest relationships.
"We are very excited to partner with a market leader like GuestCentric and provide our clients with a full integration between InnTender's hotel management solution and GuestCentric's digital marketing platform," said Kent Comfort, President and CEO of InnTender. "With this integration, not only will hoteliers run their operations in a more efficient way, but they will also easily market their brands and sell their hotel rooms online with GuestCentric's first-class digital marketing solution."
GuestCentric is an award-winning leader in both design and innovation, recognized with over 100 international awards. Its innovative digital marketing software focuses on revenue generation with simplicity and ease of use, providing all features needed for hotel digital marketing success: sales-oriented and responsive websites, user-friendly booking engine mobile-optimized for hundreds of devices, a channel manager with access to over 400 integrations, social marketing, SEO optimization and extensive reporting and analytics.
"This partnership with InnTender brings hoteliers an integrated platform to manage, market and sell their hotel rooms with simplicity and ease of use. Hoteliers will now be able to run operations in a fast and efficient way, and focus their efforts in providing guests a remarkable experience," said Pedro Colaco, CEO of GuestCentric. "This partnership is also a great example of the flexibility and agility of the cloud model, which allow us to combine best practices from multiple companies to provide the best service possible to our clients."
GuestCentric and InnTender will be present at the Southern California Hotel & Lodging Conference, on September 23. The event will take place at City of Industry, CA, at the Pacific Palms Hotel & Conference Center.
###
About GuestCentric
GuestCentric is a leading provider of cloud-based digital marketing software that helps hoteliers protect their brands, drive bookings and connect to their customers on all digital platforms. GuestCentric's all-in-one platform provides hoteliers with award-winning responsive web sites for mobile, tablets and desktops; a user-friendly booking engine; a social marketing module to publish deals on Facebook, Twitter and other social networks; and a channel manager to offer rooms on Booking, Expedia, TripAdvisor and hundreds of other channels. GuestCentric has operations in New York, San Diego, London, Barcelona and Lisbon and is a proud partner of hotels that are part of collections like Design Hotels, Small Luxury Hotels, Leading Hotels of the World and Relais & Chateaux. For more information, please visit http://www.guestcentric.com
About InnTender
InnTender is the ground-breaking PMS solution developed by Lodge Tools, Inc., a developer and provider of business management tools for the lodging industry. InnTender is rapidly penetrating a very active hospitality operations management market and is also becoming a popular platform for academic training programs. Lodge Tools is carefully aligning with industry leading companies in the form of close partnerships that bring a complete suite of solution offerings to the hospitality services market.