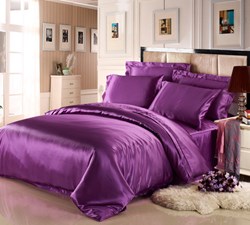 It is necessary for customers to buy their desirable beddings before reading a practical guide.
Little Rock, AR (PRWEB) October 16, 2013
Lilysilk.com, the famous online bedding store, releases a practical guide today on its website to buy 100% mulberry silk sheet sets for Halloween. According to Mike Lee, CEO of the company, customers, especially their children, need a firm and sweet sleep at night after the daytime carnival.
Lilysilk specializes in designing and offering top quality silk bedding sets and silk comforters with free delivery to customers worldwide. Their pure silk sheet sets receive good comments and get popular among housewives and gentlemen for exquisite craftsmanship, delicate designs, gorgeous looks and premium quality. Certainly, their new arrivals of 22mm seamless silk bedding sets are no exception. Lilysilk aims to bring their best silk products to worldwide customers, and has updated a guide to buy silk bedding collection on its website.
"Kids play tricks excitedly on Halloween Day and they need a sweet sleep at night. Parents would like to send the best silk sheet set as gifts for their honey sons and daughters. " says, Mike Lee. "We only use the Grade A mulberry silk to make silk sheet sets which can promote sleep quality a lot. Our guide on the website tells parents which sheet is best for children." he adds.
In addition to the regular silk sheet sets, Lilysilk is also offering the best quality silk filled comforters and pillows, delicate silk blankets and silk coverlets, silk topper mattresses, silk cushions, and so on. All these silk products can be found easily on their website categories.
About Lilysilk
Based in China, Lilysilk has years' experience of manufacturing top quality silk bedding and silk comforters for customers worldwide. Their 19 momme or 22 momme or 25 momme seamless silk bedding sets are popular among housewives for delicate designs and craftsmanship.
More information about their silk bedding set can be accessed at: http://www.lilysilk.com/