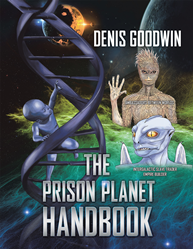 TARANAKI, New Zealand (PRWEB) February 11, 2019
With many questions unanswered or seemingly obscure, Denis Goodwin challenges readers to make the paradigm shift and get a better understanding of man's place in the universe. His process of recording information and conducting research with others resulted in the creation of "The Prison Planet Handbook."
By observing science and reality while tying together people's experiences, Goodwin looks beyond a restricted illusion of reality to share with others. The focuses include human understanding, cognitive dissonance, and one's place in the universe.
This book presents an unconventional examination of humanity's purpose and the skepticism ingrained in modern mainstream society.
"The Prison Planet Handbook"
By Denis Goodwin
ISBN: 9781543495164 (softcover); 9781543495171 (hardcover); 9781543495157 (eBook)
Available at the Xlibris Online Bookstore, Amazon and Barnes & Noble
About the author
Denis Goodwin was inspired to write this book after meeting an early child care nurse who had been researching topics that churches frowned upon. In order to make sense of the information, he began writing down information and conducted additional research. To learn more, please visit http://www.theprisonplanethandbook.com.
General Inquiries:
LAVIDGE – Phoenix
Bryan Beach
480-306-6554
bbeach (at) lavidge (dot) com
Review Copies & Interview Requests:
LAVIDGE – Phoenix
Kiersten Woglom
480-998-2600 x 586
kwoglom (at) lavidge (dot) com