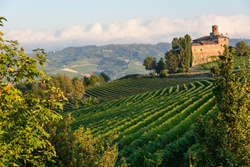 Our customers are always surprised to discover how close Italian cities are to each other and these day-trip excursions departing from Milan are the perfect example
Chicago, IL (PRWEB) March 16, 2015
Twenty million visitors are expected to visit the city of Milan for the Expo, the most anticipated global event of the year that will take place in Lombardy's capital from May to October. Select Italy (http://selectitaly.com), the boutique travel company specialized in Italy, is a one-stop-shop for all the travelers that want to experience Milan at its best, from famous sites to the hidden gems in the surroundings.
The New York Times gave Milan first place in its 52 Places to Go in 2015 list, and besides the Expo and its 7000 related events spanning 6 months, there have always been many reasons to visit the city. Home of landmarks such as the Duomo, the Sforza Castle and Da Vinci's masterpiece The Last Supper, Milan is a good base for touring the surrounding area because of its strategic geographical position. Select Italy offers a new set of unique excursions departing from Milan to discover the hidden gems of Lombardy and other regions:

Select Italy's day-trip excursions from Milan include transportation in a luxury vehicle with English-speaking driver.
"Our customers are always surprised to discover how close Italian cities are to each other and these day-trip excursions departing from Milan are the perfect example, " says Andrea Guglielmino, Director of Marketing at Select Italy. "We have selected the best activities, guided tours, wineries and gourmet experience to offer unforgettable getaways to travelers interested in discovering the genuine side of Milan's nearby areas and regions."
Consult the complete offering of excursions from Milan on the company website. For further information about Select Italy visit selectitaly.com or send an e-mail to info(at)selectitaly.com.
About Select Italy
Select Italy® is The Ultimate Source for Travel to Italy® and offers a wide array of superior Italian travel products and services, including customized itineraries, state-of-the-art tours and packages, wedding/honeymoon trips, unique culinary classes, a complete pre-departure ticketing service for museums and musical events, private guided services, yacht charters, transportation, hotel reservations, villa bookings and more. Through a vast network of suppliers and cultural contacts, anything and everything you need for optimum travel to Italy is possible with Select Italy. Based in Chicago with an office in New York and Shanghai and support staff in Italy, the company has expanded its offerings and travel services to the Balkans with the launch of Select Croatia®.