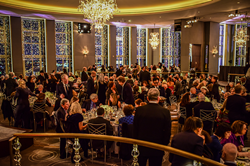 The awards ceremony will be held during a benefit dinner on Monday, March 11 at The Rainbow Room in New York City.
NEW YORK (PRWEB) March 08, 2019
Guild Hall has named the recipients of the 34th Academy of the Arts Achievement Awards. This year's honorees are composer Carter Burwell for Performing Arts presented by filmmaker Ethan Coen; Alice Aycock for Visual Arts, presented by Whitney Museum Director Adam Weinberg; Bob Colacello for Literary Arts, presented by author Linda Yablonsky; and Patti Askwith Kenner will receive the Special Award for Leadership and Philanthropy, presented by actress, singer, and playwright Tovah Feldshuh.
The awards ceremony will be held during a benefit dinner on Monday, March 11 at The Rainbow Room in New York City. The ceremony is hosted by Academy of the Arts President and Guild Hall Trustee Eric Fischl, while writer and Vogue theater critic Adam Green will take the reins as the evening's Emcee. There will be a live performance of a Carter Burwell composition interpreted by indie rock legends Yo La Tengo.
About the Academy Dinner
In 1985, Guild Hall's Board of Trustees initiated an awards program to recognize achievement in the arts. An independent jury was formed and elected Kurt Vonnegut, Willem de Kooning, and Alan Alda to receive the first Medals of Merit for excellence in the literary, visual, and performing arts. The following year, the Academy of the Arts was created, using as its nucleus the original jury and the original awardees. Since then, the membership has grown and reflects the impressive pool of influential visual, literary, and performing artists with ties to the East End of Long Island.
Past honorees include: Edward Albee, Alan Alda, Laurie Anderson, Alec Baldwin, Matthew Broderick, Mel Brooks, Blythe Danner, Willem de Kooning, April Gornik, Joseph Heller, Walter Isaacson, Billy Joel, Nathan Lane, Roy Lichtenstein, Sarah Jessica Parker, Steven Spielberg, Elaine Stritch, Julian Schnabel, Bruce Weber, and many others. In 1997, the Special Award for Leadership and Philanthropic Endeavors was introduced to recognize leading advocates for the arts. Recipients of this award have included Jo Carole and Ronald Lauder, Charlotte Moss and Barry S. Friedberg, Dina Merrill, and Peter Jennings, to name a few.
Tickets to the Academy of the Arts Achievement Awards Dinner can be purchased by calling the Special Events Department at 631-324-0806 or visiting guildhall.org. Funds raised benefit Guild Hall's mission of celebrating the artistic spirit on the East End by educating, inspiring, and enriching diverse audiences with excellent and engaging year-round programming.
The Guild Hall Academy Dinner is sponsored in part by Consiglio Builders, Hollander Design Landscape Architects, and Robert A.M. Stern Architects. Media Sponsor: The Purist
Co-Chairs of Guild Hall's Academy of the Arts Achievement Awards John Alexander and Fiona Waterstreet, Ruth Appelhof, Ph.D., The Hilaria and Alec Baldwin Foundation, Taylor Barton and G.E. Smith, Kay and Albert Bellas, Christine Berry, Magda and Edward Bleier, Mary Jane and Charles Brock, Michael N. Cinque, Marty and Michele Cohen, Lucy and Steven Cookson, Florence and Richard Fabricant, April Gornik and Eric Fischl, Michael Halsband, Phyllis Hollis, Bruce Horten and Aaron Lieber, Susan and Steven Jacobson, Patti Askwith Kenner, Laurie Lambrecht, Barbara and Richard S. Lane, Linda Lindenbaum, NancyJane and Jeffrey Loewy, Ninah and Michael Lynne, Sondra and David Mack, Linda Macklowe, Susan and Morris Mark, Joyce Menschel, Meringoff Family Foundation, Cheryl and Michael Minikes, Alice Netter, Pamela and Edward Pantzer, Katharine Rayner, Toni Ross and Ron Kaplan, Tom Roush, James Salomon, Henry and Peggy Schleiff, Cindy Sherman, Drs. Marjorie and David Silverman, Renée and Richard Steinberg, Judith Shubow Steir and Berton Steir, Mary Stone, Stephanie Todd, Susan Vecsey, Lucy Winton, Peter M. Wolf, and Kenneth L. Wyse.
Honorees
Performing Arts – Carter Burwell has composed the music for a number of feature films, including Blood Simple, Raising Arizona, Miller's Crossing, Barton Fink, Rob Roy, Fargo, The Spanish Prisoner, Gods and Monsters, Velvet Goldmine, Being John Malkovich, Before Night Falls, Adaptation, In Bruges, Twilight, True Grit, Anomalisa, Carol, Wonderstruck, and Three Billboards Outside Ebbing, Missouri.
His theater work includes the chamber opera The Celestial Alphabet Event and the Mabou Mines productions Mother and Lucia's Chapters of Coming Forth by Day.
In 2005 he developed a concert work for text and music titled Theater of the New Ear, presented in New York, London, and Los Angeles. The text, by Joel and Ethan Coen and Charlie Kaufman, was performed by a dozen actors including Meryl Streep, Steve Buscemi, Philip Seymour Hoffman, Hope Davis, Peter Dinklage, and Jennifer Jason Leigh. The music was performed by the Parabola Ensemble, conducted by Burwell.
His dance compositions include the pieces The Return of Lot's Wife, choreographed by Sara Pearson and Patrik Widrig, and RABL, choreographed by Patrice Regnier. He has performed around the world with his own ensembles as well as others, such as The Harmonic Choir. His writing includes the essay Music at Six: Scoring the News Then and Now, published in the inaugural issue of Esopus magazine in 2003 and reprinted in Harper's Magazine, and the essay No Country For Old Music in the 2013 Oxford Handbook of New Audiovisual Aesthetics.
While completing his B.A. at Harvard College he pursued independent study at the MIT Media Lab. After graduation, he was a senior computer scientist at Cold Spring Harbor Lab and the New York Institute of Technology. He has taught and lectured at The Sundance Institute, New York University, Columbia University, and Harvard University.
Visual Arts – Alice Aycock has lived in New York City since 1968. Aycock received a B.A. from Douglass College and an M.A. from Hunter College. Her works can be found in numerous collections including the Museum of Modern Art, the Whitney Museum, the Brooklyn Museum, the Louis Vuitton Foundation, the LA County Museum, the National Gallery of Art, the Sheldon Museum of Art, Storm King Art Center, Omi International Arts Center, and the Sprengel Museum in Hanover, Germany. A traveling retrospective was organized by the Wurttembergischer Kunstverein in Stuttgart (1983) and a retrospective was held at Storm King (1990). In 2013, a retrospective of her drawings and small sculptures was exhibited at the Parrish Art Museum in Water Mill, New York coinciding with the Grey Art Gallery in New York City. Aycock's public sculptures can be found in many major cities in the U.S., including East River Park Pavilion at 60th Street in New York City (1995/2014); San Francisco Public Library (1996); JFK International Airport, NY (1998/2013); GSA Building, Baltimore, MD (2004); Nashville, TN (2008); and Washington Dulles International Airport (2012). In 2014, a series of seven sculptures were installed in New York City, entitled Park Avenue Paper Chase, in collaboration with Galerie Thomas Schulte, Berlin. In 2016, she completed a large-scale outdoor public artwork in Coral Gables, FL, and an entrance sculpture for the new MGM National Harbor, MD. She installed a sculpture for the lobby of 50 West, New York, NY in July 2017. A permanent large-scale installation was inaugurated at Pier 27 on the Toronto waterfront in the fall of 2017. Currently she is represented by Marlborough Gallery, New York and Galerie Thomas Schulte, Berlin. She had her first solo exhibition of new sculptures with Marlborough in the fall of 2017.
Literary Arts – Bob Colacello was born in Brooklyn and raised on Long Island. He graduated Georgetown University School of Foreign Service in 1969, and Columbia University Graduate School of the Arts in 1971. By then, he had been hired to run Andy Warhol's new magazine, Interview, a job he held for 13 years, becoming one of the artist's closest creative collaborators. His memoir of that period, Holy Terror: Andy Warhol Up Close, has been widely acclaimed as the best book on the so-called Pope of Pop. From 1984 to 2017, Colacello was under exclusive contract to Vanity Fair, writing profiles and investigative pieces on cultural, social, and political subjects. In 2004, he published the first of a two-volume biography of the Reagans, Ronnie and Nancy: Their Path to the White House. He is currently writing the second volume on the White House years and afterward. In 2016, he curated his first art show at the Vito Schnabel Gallery in St. Moritz, Switzerland.
Special Award for Leadership and Philanthropy – Patti Askwith Kenner is an indefatigable advocate for social causes, including arts education, women in politics, Holocaust survivors and history. In addition to serving as a long time Guild Hall trustee, Patti is board member of the Defiant Requiem Foundation, the Museum of Jewish Heritage-A Living Memorial to the Holocaust, Carnegie Mellon University, the American Heart Association and many others. In 2019, she underwrote the Patti Kenner Fellowship in Arts Education at Guild Hall to help enhance educational programming for youth.
Patti was born in New York City and grew up in Harrison, NY. She graduated with a degree in French from Carnegie Mellon University and received her Master's degree in Early Childhood Education from Columbia University Teachers College. Following 10 years of teaching, she joined her father at Campus Coach Lines, the charter bus company he founded as a student at the University of Michigan in 1928, and which he ran until he passed away recently—at 104. Patti is now President of Campus Coach. She has served as a trustee of her alma mater Carnegie Mellon for over 25 years and just dedicated the Askwith Kenner Global Languages and Cultures Room, featuring virtual reality stations that enable students to take simulated trips around the world. Combing her love of education and the arts, Patti serves on the board of the University Musical Society at the University of Michigan which brings theater and music to the Ann Arbor community. She is currently co-producing a documentary film on the Swedish architect, businessman, diplomat, and humanitarian, Raoul Wallenberg, who saved tens of thousands of Jews in Nazi-occupied Hungary, and was a student at the University of Michigan. For over 30 years, she has served on the Board of the Educational Alliance, a 125-year-old social service agency on the Lower East Side. Patti's daughter Julie and her two younger grandchildren live in Aspen, Colorado, while her two older grandchildren attend high school and college on the East Coast, and they all spend the summer with Patti in East Hampton. She is proud of her lengthy Board service to Guild Hall and to be part of an organization that gives back so much to the community. She dedicates her commitment to Guild Hall to the memory of former Chairman, Mickey Straus, who insisted Patti become involved with this important institution.
Photo by Dane DuPuis
__________________________________________________________________________________
About Guild Hall Guild Hall, one of the first multidisciplinary centers in the country to combine a museum, theater, and education space under one roof, was established in 1931 as a gathering place for community where an appreciation for the arts would serve to encourage greater civic participation. For nearly nine decades, Guild Hall has embraced this open-minded vision and provided a welcoming environment for the public to engage with art exhibitions, performances, and educational offerings. Art and artists have long been the engine of Guild Hall's activities and the institution continues to find innovative ways to support creativity in everyone.