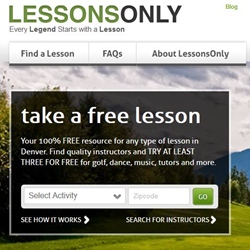 Our hope is to make this process better for everyone. We believe people in Denver will be amazed what they can accomplish with the right instructor.
Denver, Colorado (PRWEB) May 01, 2014
Whether wanting to learn the proper chords in guitar lessons or looking for guidance in basketball training, Denver-based company LessonsOnly brings a new approach to the world of personal instruction including free introductory lessons for all.
Founded on the idea of connecting students with qualified instructors without breaking the bank or wasting countless amounts of hours, LessonsOnly's main goal is to help build stronger relationships between its students and instructors.
"We hope we can help create long-lasting relationships by doing much more than setting up a lesson. We care deeply about how that experience goes for our students and instructors," said Michael Koch, LessonsOnly Vice President of Marketing. "You can learn about a person's experience, their facility and philosophy online. But with LessonsOnly, you can learn about their personality, too, which is why we give the first initial contact with the instructor at no cost."
It all comes to fruition with just a couple clicks of a mouse. LessonsOnly has its instructors sign up, builds them a marketable and individualized profile page, and then connects them with interested students around their area.
If the student and instructor are a good fit, a mutually-beneficial relationship and paid-for lessons will follow.
"Finally, students and parents can now easily find qualified coaches to provide private instruction for any sport or activity," said LessonsOnly supporter and Hall of Fame coach John Hancock.
LessonsOnly offers a wide variety of lessons. Basketball training with highly-touted coaches like Erik Buehler, baseball lessons with former big leaguers such as former Colorado Rockies and New York Yankees pitcher Jason Hirsch, and guitar lessons from such talents as John Taylor, the world's fastest guitar player, are just some of the individual practices available from expert instructors.
The LessonsOnly.com website provides the ability to research and compare background-checked instructors, narrowing down the search based on zip-code findings, facilities and other student reviews before taking an introductory lesson.
"Our hope is to make this process better for everyone," Koch said. "We believe people in Denver will be amazed what they can accomplish with the right instructor."
Denver instructors can sign up today to start receiving inquiries from prospective students. Once approved, LessonsOnly will build a marketing profile page for each instructor designed to get found at the top of Internet search results.
About LessonsOnly.com
LessonsOnly is founded and based in Denver, Colorado. LessonsOnly.com is a website connecting students with qualified instructors. With the help of its passionate and enthusiastic instructors, from math tutors to personal trainers, LessonsOnly.com makes finding the right instructor for students fun and easy. The ultimate goal of LessonsOnly is to connect students of all ages with new activities and experiences. For more information contact Michael Koch at 303-263-2853 or email mike (at) lessonsonly.com.