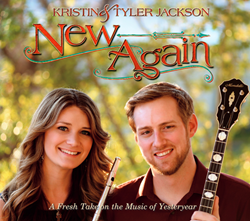 Boerne, TX (PRWEB) September 29, 2014
Tyler & Kristin Jackson will celebrate the release of their CD album, "New Again: A Fresh Take on the Music of Yesteryear," with an evening of music in the Hill Country. The concert will begin at 6:30 p.m. on Oct. 18 and take place at Hearts' Home Acoustics, 109 Oak Park Drive in Boerne, Texas.
Best known as the longstanding touring bassist for Ray Price, Tyler also has held down the low end for the Jim Cullum Jazz Band and Brent Watkins' South Texas Jazz trio. However, this recording features his mastery of the tenor banjo, which has always been his principal instrument. Kristin's pedigree as an orchestral musician has led her to perform regularly with the San Antonio Symphony and The Ventoso Winds quintet.
The program will feature selections from "New Again," along with repertoire from the couple's live performances across the nation. The Jacksons will be accompanied at this concert by Chaney Rutherford and Joe Gonzales on guitar and double bass.
The style and caliber of the duo's music has been highly praised for its original sound:
Johnny Baier, of All Frets Magazine, said, "The unlikely pairing of tenor banjo and flute, coupled with a marvelously eclectic selection of material performed with impeccable musicianship, left the audience in a delightfully stunned state."
Bill O'Connor of Bandera, Texas, said, "Kristin's flute is pure and elegant. On pieces such as Massanet's Elegie, Tyler's banjo backs her silky mournfulness with the voice of a harpsichord. And his accompaniment of Kristin's haunting Irish flute on Shenandoah is sparse yet brilliant, like the rising sun sparkling on the river as it flows gently through the wide Virginia valley. … On his original, Vinnie's Rag, Tyler drives his Vinnie Mondelo banjo like a wild 14-year-old boy on a lightning skateboard, hurtling down ever steeper hills and risking a wreck at every wicked turn. But there is no wreck. He's that good."
This concert is open to the public. Admission is free, but contributions to benefit the performers will be accepted. For further information, please call 830-331-9840 or visit http://www.HeartsHomeAcoustics.com.
About Hearts' Home Acoustics:
Hearts' Home Acoustics specializes in offering excellent acoustic instruments and musical instruction. Distinguished by an exceptional staff and unparalleled collection of hand-crafted guitars, the store has become a local and international destination for musicians since its opening in 2009.
With an extensive collection of fine and exotic tonewoods brought from around the world, HHA commissions America's most gifted luthiers to build guitars using hand-picked woods matched for acoustic and aesthetic perfection. Customers of the store have included prominent professional musicians, nationally-touring bands, and multiple Grammy Award-winning recording artists.
New musicians are also undergirded with a selection of student instruments and a competitive rental program. The faculty of HHA's music school offers instruction in more than a dozen instruments and willingly shares insight and advice to benefit any student, whether beginner, intermediate, or advanced.
The store is an active member of the Boerne and Greater San Antonio communities. It hosts monthly "jam sessions" that are free and open to the public, along with house concerts and charity events. HHA is a longtime sponsor of the Boerne Performing Arts series.