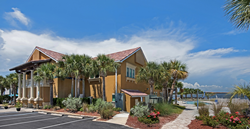 "Another chance at life is another chance at change. We use a different approach here that is effective with those who are struggling with chronic relapse. The real shame would be to get another chance at life and keep doing the same things that haven't worked in the past." Barnett Gilmer CEO
GULF BREEZE, Fla. (PRWEB) December 26, 2018
Hamilton County Public Health announced on December 17th that Hamilton County, Ohio, an epicenter of the opioid epidemic, has seen a significant reduction of opioid overdose deaths, EMS runs and emergency department visits. Opioid overdose deaths are down 31%, EMS runs are down 37% and emergency department visits are down 42%.
They are attributing these dramatic reductions to the county-wide increase in take-home doses of naloxone, a life-saving drug that reverses the effects of an opioid overdose. Previously, naloxone was primarily administered by first responders, which both limited the number of people who had access to the drug and cost those in crisis precious time while waiting on overstrained emergency workers.
Hamilton County, working with all major regional health systems, several community based organizations and supported by a charitable donation from Emergent BioSolutions (together known as the Narcan Distribution Collaborative, or NDC) distributed almost 25,000 doses of NARCAN® (Naloxone HCL) nasal spray over the course of a year. This program, launched October 1, 2018, contributed to a 674% increase in take-home naloxone.
What this means is that people are able to reverse the effects of opioid overdose more efficiently and that lives are being saved in a county where first responders were often called to the same person's residence for an opioid overdose on multiple occasions. Any time an opioid user is able to escape a fatal outcome, it represents another chance for recovery.
Gulf Breeze Recovery's holistic, non-12 step program specializes in overcoming chronic relapse. Even if a person has been administered naloxone on one, two, or even ten occasions, it does not mean that they are a lost cause.
According to Barnett Gilmer, Owner and CEO of Gulf Breeze Recovery, "Another chance at life is another chance at change. We use a different approach here that is effective with those who are struggling with chronic relapse. The real shame would be to get another chance at life and keep doing the same things that haven't worked in the past."
About Gulf Breeze Recovery: Gulf Breeze Recovery is changing the future of addiction treatment with the THRIVE® program focused on overcoming chronic relapse. Gulf Breeze Recovery's THRIVE® program is designed for those who are looking for a drug and alcohol treatment program to produce a different and positive result. This non-12 step program allows you to drive beyond your addictions and promotes a new outlook on life. For more information about our program or to speak with an Addiction's expert, please call 855-973-3551 or contact us.