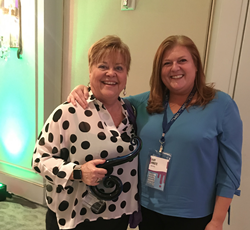 Sheila has been an inspiration to me and to thousands of women who work in the vacation rental industry.
GULF SHORES, Ala. (PRWEB) March 21, 2019
Meyer Vacation Rentals Owner and SH Enterprises Inc. Chairman of the Board Sheila Hodges was one of only three women honored as vacation rental management industry pioneers during the inaugural VRM Intel Women's Summit held in February in New Orleans.
Presented by nationally circulated VRM Intel magazine and the Vacation Rental Management Association (VRMA), the summit brought together 500 vacation rental professionals to participate in more than 50 sessions and events to celebrate, educate and empower women in the vacation rental industry.
"Our objective for this event is to bring the smartest and most influential women in the vacation industry together to inspire and empower attendees, encourage a sense of community, and discuss high-level topics specific to this unique audience," said VRM Intel Founder and Editor Amy Hinote.
Hinote said the Pioneer Award was created to honor women who played integral roles in building the vacation rental management industry into the force it is today.
"Vacation rentals are now mainstream lodging options, but that wasn't always the case," Hinote said. "When Sheila joined Meyer Real Estate in 1978, there were not many families choosing to stay in a rental home for vacation. And it wasn't until after Hurricane Frederic in 1979 that the Alabama Gulf Coast saw a huge boom of development for these lodging alternatives. As real estate boomed and the industry grew, Sheila took the vacation rental department from paper to computer, and later to online booking. Over the years, she not only grew Meyer into the leading vacation rental company in Alabama, but she also faced many challenges. In every crisis, Sheila forged ahead and found the opportunities others left behind, like the development of Starr Textile Services, the largest commercial laundry provider between the Texas and Florida coasts. Living on the Alabama Gulf Coast from 1993 to 2011, I was able to personally learn from Sheila as a pioneer in the community and as a leadership example for women in an area in which few women held positions like hers. She has been an inspiration to me and to thousands of women who work in the vacation rental industry."
Meyer Vacation Rentals President Michelle Hodges participated both as an attendee and a presenter at the summit, leading a session along with Ali Breaux, president of Sun Realty Outer Banks Vacation Rentals, on "Managing 1,000+ Homes in a Regional Market."
Michelle also participated in the closing panel discussion Hinote moderated.
Michelle said the award was a proud moment not only for Sheila but also for Meyer Vacation Rentals and the vacation rental management industry as a whole.
"For over 40 years, our company has benefited from Sheila's passion for the real estate and hospitality industry. She has consistently reinforced the need to balance the value of relationships with service and profitability, which has become our core value proposition. In the course of building Meyer Vacation Rentals into the company it is today, she has also created a work environment where individuals can grow and contribute their time, energy and skill sets in a meaningful way. She naturally attributes the company's successes to the team that is a part of 'Making It Happen' and always keeps her eye on the future and the next checkpoint that ensures the organization will maintain its position as the industry pacesetter."
Michelle added that Sheila's efforts to grow the business included collaborating with other business and industry leaders, which has had the added effect of influencing the local, regional and national vacation rental management industry.
Sheila said she was honored by the recognition at the summit. "To say I was surprised would be an understatement! Yet, the actual realization that by living my own best life had others watching and or following brings me to tears. What a life lesson for us all. To quote a very famous woman, 'it takes a village.' And, indeed, to be honored as a pioneer in our industry took many villages—the small village of family, the village of Meyer, the village of business, the village of community, and the village of the hospitality industry. Thank you all for the guidance, inspiration and challenges."
Michelle said, "In Sheila's words and actions she has clearly showcased that a rising tide floats all ships. From serving as chairman of the Coastal Alabama Chamber of Commerce, chairman of the Alabama Real Estate Commission, founding board member of the Gulf Shores/Orange Beach CVB (and still actively serving as a board member 25 years later), chairman of the Coastal Alabama Partnership, and so many other local and regional community groups, Sheila has shown her commitment to join with/in forces that work to collectively elevate our community."
She continued, "During her career, Sheila has made an impact not only on our community and the hundreds upon hundreds of team members who have been a part of the organization through the years, but she has also influenced a large and mostly unknown audience of would-be entrepreneurs, career hopefuls, and industry movers and shakers to drop a house on the fear holding them back and start the path forward on their own yellow brick road."