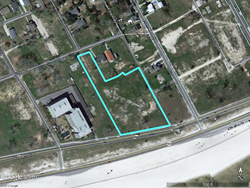 Gulfport, MS (PRWEB) April 22, 2014
The site of the former Chateau Charmant condominiums – a popular vacation spot – is up for auction April 26, 2014 on online real estate auction market leader Micoley.com.
The property at 4512 W Beach Blvd in Gulfport, now vacant land due to Hurricane Katrina, is an ideal spot for redevelopment due to a number of factors, not least of which is the land's proximity to New Orleans, the Florida Panhandle, casinos, and sandy beaches along the coast. This coastal property, which boasts 2.76 acres of beautiful parcel facing the Mississippi Sound, provides a great opportunity to transform back into a popular attraction for tourists and vacationers.
The list price for the land is $599,500 with pre-auction offers accepted up until the online auction begins on April 26. The opening bid begins at $395,000 if no offers are received before the auction date.
The Chateau Charmant – translated to "charming house" in French – was one of the original timeshares to find a home along the Gulf Coast when it originated nearly 25 years ago. Visitors enjoyed a unit that lived up to its name with friendly personal touches from the owners and managers.
The seller representative spoke at length about how beloved and valued the Chateau Charmant was to the community, but admitted: "Our owners are elderly, and rebuilding post-Katrina was too distant a dream for most of them. Given their age, we believe that auctioning the property is in our best interest."
The recovery from Hurricane Katrina is clear with the vibrant activity emerging from the downtown Gulfport area. The spot is mere minutes from attractions such as the Island View Casino along I-90, or just up US 49 to the Gulf Islands Waterpark which features miles of slides set alongside historic Mississippi and Gulf Coast imagery and landmarks.
To interested buyers, this presents a great development or investment opportunity: the land itself is level and ready to build on, and is located right along the beach, near themeparks, casinos, and New Orleans. Thanks to their innovative hybrid strategy, the Micoley.com team is uniquely qualified to specialize in assisting buyers and sellers with opportunities just like this one.
The online-only auction is scheduled to take place Saturday, April 26, 11:00a.m. to 2:00p.m. central time. Interested parties should visit micoley.com to find more photos and details about the property, or by visiting in person and performing an inspection on site, which is highly recommended. (866) 371-3619 is Micoley.com's information line. Additionally, Micoley.com features a live chat service through which questions can be answered.
About Micoley:
Green Bay, Wisconsin-based Micoley.com is a real estate marketing firm specializing in project focused auctions of bank-owned properties throughout the United States. The Micoley.com approach to real estate marketing tailors each auction plan to the client's individual needs. The site is constantly being updated for the benefit of buyers, as large scale auction events are held monthly, and new properties are added daily. Auctioneer: Rick Roundy #1375. Broker Firm: WM Enterprises, Inc #19958. Broker: Wade T. Micoley #20744