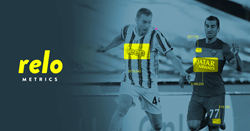 "The emergence of Relo Metrics is a natural next step in our journey and I'm proud to be part of this milestone moment," says Relo Metrics, CEO, Brian Kim.
SANTA MONICA, Calif. (PRWEB) May 06, 2021
Leading AI-powered sponsorship analytics platform, GumGum Sports, is taking a bold leap to the future today by unveiling a new brand identity and name - Relo Metrics.
Since it was launched four years ago, within contextual intelligence leader GumGum, GumGum Sports has been an ambassador for innovation and technological advancement in the sports sponsorship sector. The platform delivers near real-time insights to enable brands to regularly track and optimize their sponsorship investments and helps rights holders to understand the true value of their assets in order to retain and grow revenue.
Fresh off of a $75M investment in GumGum led by Goldman Sachs Growth, GumGum Sports is launching its own independent brand and corporate structure under Relo Metrics to help fuel strategic investment and growth. Relo Metrics will continue to be led by Brian Kim, previously General Manager of GumGum Sports, as CEO.
"The emergence of Relo Metrics is a natural next step in our journey and I'm proud to be part of this milestone moment," says Relo Metrics, CEO, Brian Kim. "We've seen great success within GumGum and our new identity and structure will give us the brand and flexibility we need to look at strategic investment and growth opportunities and support the growing needs of our customers. Under the new brand name Relo, we'll be focusing on supersizing our platform growth in key strategic areas, allowing us to shore up market share in the sponsorship industry."
"Relo" comes from the Spanish word "reloj", meaning "watch", and was chosen because it reflects the innovative vision, and meticulous engineering behind the company's real-time analytics machinery.
Just as a well-made watch is an essential tool in keeping track of time, Relo Metrics is an essential tool for brands and rights holders looking to ramp up their sports sponsorship performance with comprehensive, defendable, and actionable data.
Relo Metrics' mission is to allow rights holders and brands to see exactly how their sponsorship assets and campaign investments are performing across live broadcast, streaming platforms and social media at any moment in time, fueling a new generation of smart and super-efficient sports sponsorships.
This trajectory is set to increase as Relo Metrics develops its pioneering data platform to:
1. Provide near real-time and reliable performance insights so that partnership decisions can be done in hours and days, not months or years.
2. Provide fair and equitable data so that all stakeholders can understand, value, and negotiate their investments.
3. Streamline and eliminate inefficient and manual processes that currently restrict how teams and brands operate when buying and managing their sponsorships.
"This is a really exciting next step for GumGum Sports with the launch of Relo Metrics. It's testimony to the strength and tenacity of the team and the technological expertise it has built in the past four years," says GumGum CEO Phil Schraeder. "I've no doubt that, in the months ahead, Relo Metrics will continue to be front of mind for progressive brands and rights holders, as they look to maximize value – and more importantly, autonomy – over their sponsorships, in a sphere that's bursting with growth opportunities."
Relo Metrics has 42 employees in four offices worldwide – in New York, LA, Chicago and London.
For more information about the new company, please read this blog post from Relo Metrics CEO Brian Kim. Discover all about Relo Metrics' brand mission and services on the new company website here.
For more information, please reach out to willhurrellpr@gmail.com