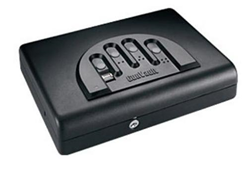 Gun safety is something that every firearm owner should practice and educate their children about to prevent accidents from happening.
Kansas City, Missouri (PRWEB) August 20, 2013
Firearm owners have a responsibility to be safe and secure at all times, particularly to protect children or family members that could have access to their weapons. Many residents throughout the United States have guns, in addition to alarm systems to provide security, and the best way to keep these guns from getting into the wrong hands is by having a high-quality gun safe.
The independent website AlarmSystemReport.com, put together a list of valuable tips gun owners can use when selecting a gun safe. AlarmSystemReport.com is the leading provider of reviews of home alarm system companies.
1. The primary consideration when purchasing a gun safe should be the size. Gun safes vary greatly in size—some are designed simply to hold a small handgun in a bedside table, whereas other gun safes are cabinets, ideal for storing rifles and larger firearms. For anyone who plans to continue acquiring guns, it may be best to purchase a large safe with extra room to accommodate a larger collection.
2. As with other safes, some gun safes can be integrated with a top home alarm system. This means the alarm system and even the monitoring will be triggered if a safe is tampered with. This feature can protect against theft, but can also provide an alert if a child is attempting to access a firearm.
3. The type of lock selected will primarily depend on who the gun owner is trying to keep guns away from. For example, if the primary purpose of a gun safe is to keep children from accessing the weapons, then any lock is probably going to be suitable, whereas if the primary purpose is to keep them away from thieves, a more sophisticated lock system may be appropriate. As with any safe, the lock options are numerous, and include biometric safes, key locks, combination locks and other types of electronic locks. If a firearm is used for protection and needs to be accessed quickly in case of an emergency, it's advisable to choose a lock that can be opened quickly and without fail.
4. Choose a safe with internal door hinges. External door hinges can easily be tampered with, which increases the chances that an unwanted person could gain access to the safe.
5. Price varies significantly for gun safes. For example, some can be purchased for as little
as $50, while others may be thousands of dollars. Regardless of the cost, it is possible to get a high-quality safe, it just might not have as many extra features as a more expensive model.
About AlarmSystemReport.com
AlarmSystemReport.com is a fully independent website that provides reviews and comparisons of top alarm systems to assist consumers in choosing alarm system companies. The site also provides valuable coupons and discounts that can be used toward the purchase of a home alarm system.