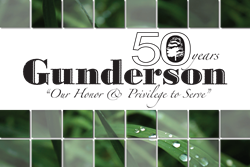 "To celebrate our 50 years, we will be planting 50 trees in the community on Tuesday, September 13th." says Phil Gunderson, Owner of Gunderson Funeral Home & Cremation Services
Fort Dodge, Iowa (PRWEB) September 12, 2016
Gunderson Funeral Home and Cremation Services first started serving the Fort Dodge, Iowa community on August 1, 1966 in what was considered a state of the art building that was designed specifically as a funeral home.
Phil Gunderson tells the story of how he was seven years old at the time when his father, Robert C. Gunderson along with Delaine Sellergren and silent partner Kenneth Rasch opened the doors at 1615 North 15th Street in Fort Dodge.
In 1974 the Highway 413 was a two lane road and construction to widen it along with adding the 15th Street bridge started in the Spring and continued until just before Thanksgiving. This construction shut off Gunderson's from the community with just a dirt road to the funeral home. There were only three funerals held that year due to the construction.
The new paved road helped the area to grow and a second story was added on in 1982 to expand the building. Phil and Keely also moved into the home located on the Gunderson Funeral Home & Cremation Services property at that time. The crematory was added in 1999 which insures the families that all care of loved ones stays in house and are not transported to a crematory outside of the area.
Today, Gunderson Funeral Home and Cremation Services has also been designated by Selected Independent Funeral Homes as a leading funeral home in the area. Here the staff have over 100 years of combined service in providing the highest standards of conduct and ethics.
"It is our honor and privilege to be able to serve the Fort Dodge community for 50 years," states Phil Gunderson, Funeral Director and Owner of Gunderson Funeral Home and Cremation Services. "To celebrate our 50 years, we will be planting 50 trees in the community on Tuesday, September 13th."
The trees will be planted along Dodger Drive at the Fort Dodge Middle School and at the Freedom Rock that is located at the entrance to Fort Dodge before the Karl King Bridge. PICA (Pride in Community Appearance) and volunteers from UnityPoint Health-Trinity Regional Medical Center will be planting the trees that morning. Kevin Lunn, City of Fort Dodge Forester and staff will be on hand to assist with the planting by using an auger to dig the holes along with providing water wagons and mulch for the trees. Smitty's Lawn and Landscape and Smitty's Garden Center will be in charge of delivering the trees.
Gunderson Funeral Home and Cremation Services is located at 1615 North 15th Street, Fort Dodge, Iowa. For additional information, please call (515) 576-7128, go to http://www.gundersonfuneralhome.com and follow on Facebook. #ThisIsFortDodge