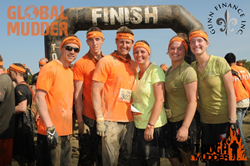 the Gunn Finance Tough Mudder team just completed the Pittsburg 2014 Tough Mudder
Dallas, Texas (PRWEB) September 23, 2014
According to pictures and video posted , the Gunn Finance Tough Mudder team just completed the Pittsburg 2014 Tough Mudder, a 10-12-mile world class obstacle course event that helps fund the wounded warrior project.
According to Paul Nuzum, a Gunn Finance Tough Mudder team member, the "Tough Mudder is an endurance event series in which participants attempt 10–12-mile-long military-style obstacle course. Designed and created by British Special Forces to test mental as well as physical strength, obstacles often play on common human fears, such as fire, water, electricity and heights. The main principle of the Tough Mudder revolves around teamwork. The Tough Mudder organization values camaraderie throughout the course, designing obstacles that encourage group participation. Participants must commit to helping others complete the course, putting teammates before themselves, and overcoming fears."
According to ToughMudder.com, the Tough Mudder is an action-packed event that supports a charity in each territory it holds events, usually military-affiliated, and encourages participants to raise money to aid veterans. Current charities supported include Wounded Warrior Project (in the United States), Wounded Warriors Canada, Help for Heroes (in the United Kingdom), and Legacy (in Australia).