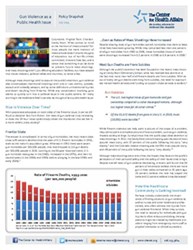 Cleveland, OH (PRWEB) August 05, 2013
Columbine. Virginia Tech. Chardon. Sandy Hook. What comes to mind at the mention of these schools? For most people the mere mention of these schools doesn't evoke thoughts of education, but of horrific crimes committed, innocent lives lost, and a sense that something must be done to prevent future mass shootings. And mass shootings aren't just affecting education facilities, but have seeped into movie theaters, political rallies and churches, to name a few.
Although mass shootings tend to capture the public's attention, gun violence also encompasses intentional shootings with one or two victims, suicides, assault with a deadly weapon, and by some definitions unintentional injuries and death resulting from firearms. While any conversation involving guns seems to quickly turn into a political issue in the public sphere, for many working in the healthcare field gun violence as a public health issue is the correct way to frame the conversation. July's Policy Snapshot takes a look at how the healthcare community is reshaping the debate about gun violence as a public health issue.
A full list of publications can be found on The Center's website along with a wide range of resources covering a variety of health policy issues.