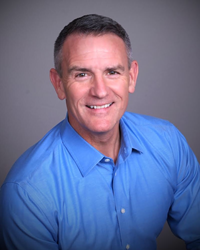 "While breakthroughs in treatment technology and funding adequacy will continue to be big drivers in the water market, effective use of data will be the game changer." - Guy Carpenter
DENVER (PRWEB) October 29, 2019
Guy Carpenter will lead the water engineering market for Stanley Consultants. Based in Muscatine, Iowa, Stanley Consultants is a worldwide provider of engineering, environmental and construction services.
Carpenter, formerly a vice president with Carollo, will report to Michael Helms, infrastructure business leader, operating from the firm's Phoenix office. Carpenter has 27 years of experience in water, wastewater and reclaimed water consulting and master planning. He specializes in advising clients how to develop and deliver water resources in a safe, reliable and economic manner.
Carpenter is tasked with developing and executing global water market strategy at Stanley Consultants, engage with key industry leaders to identify new trends, direct the business development team towards new opportunities and manage profit and loss.
"What I love about Guy is his passion for water," Helms said. "He brings a wealth of experience in solving many of the water scarcity and quality challenges that confront most communities today. Not only is he out in front with his clients tackling these issues, he also is out in front of public policy through his leadership on various water-centric boards and committees."
The water engineering team serves throughout the company's spectrum of engineering services, including federal and military, civil engineering, energy, transportation and smart cities design and consulting. Stanley Consultants has a long tradition of working on major water projects such as the rebuilding and protection of New Orleans, to designing water plants in the Middle East, improving the Florida Everglades, supplying western United States with water and storm water abatement and designing numerous water supply and wastewater treatment facilities.
"As an observer and in past project partnership with Stanley, I've always admired the firm's ability to adapt and respond to the shifting demands on infrastructure services," Carpenter said, adding that Stanley Consultants is well-positioned to help clients repair and replace aging facilities, given its history of infrastructure master planning, design and construction management.
"While breakthroughs in treatment technology and funding adequacy will continue to be big drivers in the water market, effective use of data will be the game changer. How data is collected, managed, processed and acted upon is the most important influencer for the water industry and our basis for designing solutions," Carpenter added. "It will drive how we optimize operations, improve the protection of public health and the environment, reduce capital and operations and maintenance costs and inform the utility rate payer."
Private equity and venture capital firms have begun investing in technology and water projects. Carpenter intends to leverage that interest to help clients meet funding challenges. He also stressed that water issues are common across all engineering activities.
"As industries look to improve their bottom lines and integrate sustainable principles into their supply chains, manufacturing processes and resource management programs, water continues to arise as a particularly rich area for improvement. Taking a holistic evaluation approach that includes the nexus between water and energy, as well as the value of recovered resources, will yield large cost savings and reduced carbon footprints.
"As consulting engineers, it's our job to look for the win-win opportunities between the industrial users of water and the communities in which they're located," Carpenter said.
About Stanley Consultants
Stanley Consultants provides program management, planning, engineering, environmental and construction services worldwide. Recognized for its commitment to client service and a passion to make a difference, Stanley Consultants brings global knowledge, experience and capabilities to serve federal, municipal and industrial clients in the energy and infrastructure sectors. Since 1913, Stanley Consultants has successfully completed more than 25,000 engagements in all 50 states, U.S. territories, and in 110 countries. For more information on Stanley Consultants, please visit http://www.stanleyconsultants.com.