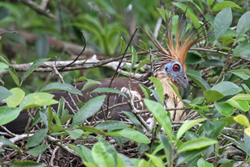 Big sky, green mountains, the distant and eerie pre-dawn call of far off howler monkeys and the Surama community made it difficult to leave... Victoria Corbett, 2014 tour participant
Miami, FL (PRWEB) March 31, 2015
Peg Abbott, Owner and CEO of Naturalist Journeys, a top-rated birding and wildlife company, says "Guyana is South America's hidden gem, a rare country that still retains a large portion of its original tropical forest cover. Outside of inaccessible portions of the Amazon, it's the wildest, most exciting place to visit in the New World tropics. Travel between lodges is mainly by boat and small plane – out the window participants seen an unbroken sea of green!"
Abbott explains that Europeans have known of Guyana's potential far longer than North Americans, despite USA residents' closer proximity. The Iwokrama International Centre for Rainforest Conservation and Development (IIC) was established in 1996, and its attendant eco-lodge is a model for eco-tourism.
Participants can expect to be awakened by Red Howler Monkeys and Amazonian Motmots, which often initiate the dawn chorus. Six of South America's elusive wild cat species patrol the forest by-ways and this is one of the better places to see Jaguar in the New World tropics. Here and at three other lodges, Naturalist Journeys travelers will ply tributary streams, home to both Giant Otter and Neotropical River Otter, and above those streams dart flashing comets of color such as splendid Crimson Topaz hummingbirds and scintillant Green-tailed Jacamars.
Human culture in Guyana is as varied and colorful as the forest cotingas. A former British colony, Guyana's capital cit, Georgetown, preserves quaint Victorian architecture, painted from a tropical palette. Participants on Naturalist Journeys' Guyana Birding and Nature Tours will also have the opportunity to visit a Macushi village, whose people are deeply committed to conserving their native forest and its wildlife.
One of the tour's destinations is the village of Surama, a dispersed native village set in five square miles of savannah, surrounded by the densely forested Pakaraima Mountains. It was this savannah that Charles Waterton passed through in 1812 in search of the secrets of the useful Wourali poison known as Curare. Waterton was so stunned by this spot that he wrote in his memoirs, "The finest park that England boasts falls short of this delightful scene."
Guyana boasts an astonishing variety of wildlife, from Guianan Cock-of-the-Rock, Hoatzin, and Crimson Fruitcrow to Jaguars, Giant Anteater and Giant Otter. Rare species include Zigzag Heron and White-winged Potoo. Over 500 species of birds inhabit the Iwokrama Forest alone, which is known for its especially high density of parrots and cotingas.
More on the Guyana Birding and Nature Tour
Naturalist Journeys' "Guyana: Hidden Gem of South America" birding and nature tour begins and ends in Georgetown, Guyana. There are three upcoming departures: October 10 – 21, 2015, Feb. 19-March 1, 2016, and March 21-April 4, 2016. Each tour is limited to 12 participants, with expert guides. For more information, see an itinerary on Naturalist Journeys' website.
More on Naturalist Journeys
Naturalist Journeys LLC, a top birding and nature tour company, offers specialty small group tours and travel worldwide, from the western U.S. to Alaska, Hawaii and Florida, Costa Rica, Panama, safaris in Africa and more. Naturalist Journey's guided nature and birding tours feature expert guides with decades of experience in birdwatching, travel photography and other forms of eco-tourism. Naturalist Journeys also offers hiking and adventure travel tours in many national parks and wildlife reserves, including the Galapagos, Antarctica and the Amazon.