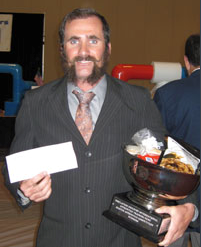 Arizona has never won the Western Conference, so winning that I was pretty happy; I never thought I would go to win the whole thing. --Caleb Cate, GWCC Apprenticeship student
Phoenix, AZ (PRWEB) September 13, 2014
GateWay Community College Apprenticeship student and Mesa resident, Caleb Cate won the 2014 International Heat & Frost Insulators Master Apprentice Competition in July in Baltimore, Md.
Cate is a fourth year apprenticeship student at GateWay and an apprentice with the Arizona Heat & Frost Insulators and Allied Workers Apprenticeship Programs.
Cate was one of ten contestants to compete in the 2014 International Heat & Frost Insulators Master Apprentice Competition. He won the title of "Master Apprentice" and received "The Cup" trophy at the competition.
"I was honored to go and represent," Cate said. "All I could have asked for was to go and do well. To win was icing on the cake."
The annual event awards the individual who demonstrated the highest degree of training, skill and craftsmanship in North America. The competition is a four-day event that consists of a written exam, application of insulation materials on a mock-up and application of a predetermined finished product.
Cate first started on his path to the 2014 International Competition in October 2013 when he was in a local competition and won against five competitors. He then competed in the Western States Conference regional competition and received the Western States trophy after beating out eight other competitors. Cate subsequently represented the Western States Conference in the 2014 International Heat & Frost Insulators Master Apprentice Competition.
"Arizona has never won the Western Conference, so winning that I was pretty happy; I never thought I would go to win the whole thing," Cate said.
Cate had worked in a paper mill for eight years, and decided it was time for a change. He wanted to have a trade, so he picked the one his father had had for over 30 years.
"It was a good job but I did not learn a lot and I am always looking to do better," Cate said. "After I left the mill it ended up closing down."
Cate's father and four brothers are insulators by trade, and three of his brothers are also apprentices and students at GateWay.
Cate ultimately would like to end up as an instructor in an apprenticeship program.
While at GateWay, apprenticeship students attend evening or weekend classes and are full-time paid employees with local contractors.
"GateWay's partnership with registered apprenticeship promotes the concept of 'earn while you learn'," said Anna Lopez, coordinator of apprenticeships at the college. "Upon completion of their program, students earn a Certificate of Completion (CCL) at GateWay in addition to Journeyman status through the State of Arizona Apprenticeship Office."
Many of the GateWay apprenticeship programs provide a pathway to an Associate in Applied Science.
###
About GateWay Community College
As one of the 10 regionally accredited Maricopa Community Colleges, GateWay Community College is a fully accredited public institution of higher education located in Phoenix. Offering more than 125 certificate and associate degree programs in the areas of Business and Information Technology, Health Sciences, Industrial Technology, Nursing and University Transfer, GateWay has emerged as a leading institution to meet the needs of business and industry. The campus is located at 108 North 40th Street, Phoenix AZ 85034.
The Maricopa County Community College District is an EEO/AA institution and an equal opportunity employer of protected veterans and individuals with disabilities.