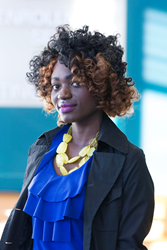 Words can't truly express my experience at Gateway Community College, it has been incredible. --Dorka Nsagane
Phoenix, AZ (PRWEB) February 28, 2015
Dorka Nsagane chose to pursue a career in nursing because of a long desire to care for others. Nsagane, a student at GateWay Community College, was recently named an All-Arizona Academic.
"I decided to pursue a degree in nursing because it is a rewarding career," said Nsagane. "As a little child growing up in Nigeria, I have always had the need to care for my relatives and people around me."
After moving to the United States, Nsagane discovered that nursing was the career path she wanted to take.
"I gained an insight into the nursing field and realized that nursing was truly the right profession for me after taking The Fundamental of Healthcare delivery program course through Gateway Community College dual enrollment program," Nsagane shared.
After her experience in with the dual enrollment program at GateWay, Nsagane chose to study at GateWay for her associate degree.
"I liked the services provided by Gateway's instructors and staff members as well as the facilities that GateWay offers," said Nsagane. "Words can't truly express my experience at Gateway Community College; it has been incredible."
While at GateWay, Nsagane has been involved in a variety of activities on campus, including the Prosper program, Honor program and Phi Theta Kappa. She also has a job on campus in the Children's Learning Center.
"I tell people GateWay is my second home," Nsagane said.
After becoming a nurse, Nsagane hopes to continue on with her education and become a nurse practitioner. Being named an All-Arizona Academic will contribute to her continuing her education after GateWay. As an All-Arizona Academic she was given a tuition wavier, which will cover in-state tuition at any of the three public Arizona universities.
"It makes me feel very fortunate to receive a tuition waiver," said Nsagane. She plans to use her tuition waiver at either Arizona State University or Northern Arizona University.
Now that part of the cost for her education has been covered, she can continue to focus on her academic pursuit.
"It's truly an amazing feeling for me to be selected as an All-Arizona Academic; I feel delighted," Nsagane said.
"This is quite an honor for the chosen student, only two students are picked out of a large pool to represent GateWay," Theresa Frimel, Honors Faculty Director, said. "These recipients are committed to academic excellence and community service."
The minimum qualifications for All-Arizona Academic is a 3.5 GPA and be set to have 48 credit hours by the end of student's second year. The scholarship is open to any student.
###
About GateWay Community College
As one of the 10 regionally accredited Maricopa Community Colleges, GateWay Community College is a fully accredited public institution of higher education located in Phoenix. Offering more than 125 certificate and associate degree programs in the areas of Business and Information Technology, Health Sciences, Industrial Technology, Nursing and University Transfer, GateWay has emerged as a leading institution to meet the needs of business and industry. The campus is located at 108 North 40th Street, Phoenix AZ 85034.
The Maricopa County Community College District is an EEO/AA institution and an equal opportunity employer of protected veterans and individuals with disabilities.