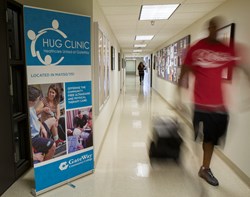 Students will benefit from the clinic because it will provide them experience working with patients and patient records as well as experience needed before working at a clinical site. --Jessica Goodman, PTA Instructor at GWCC
Phoenix, AZ (PRWEB) November 01, 2013
GateWay Community College in Phoenix is opening its new Healthcare United at GateWay (HUG) Clinic to the community, Oct. 31, 2013. Services are currently being offered pro bono to the community.
The HUG Clinic provides ultrasound and physical therapy assisting services and was piloted with students, faculty and staff of GateWay last spring, with the intent to expand and open to the community this fall. It's the first and only pro bono clinic on a community college campus in Maricopa County and the only ultrasound program in the country that's offering services like it.
Students are providing the services, with oversight by faculty experts, and are gaining valuable skills.
"Students from the Diagnostic Medical Sonography (ultrasound), Physical Therapy Assisting and the Health Unit Coordinating programs will benefit from the clinic because it will provide them experience working with patients and patient records as well as experience needed before working at a clinical site," said Jessica Goodman, GateWay Physical Therapy Assistant instructor.
The HUG Clinic meets all the state requirements, and just received its license on Tuesday, so it's recognized as a legitimate healthcare option in the heart of the Discovery Triangle area in east Phoenix.
"Inspections were done by the Arizona Department of Health Services, so we have met all state requirements for providing a safe and healthy work environment for our students as well as our patients," said Malka Stromer, GateWay Diagnostic Medical Sonography instructor.
The HUG Clinic will be affiliated with the Maricopa Integrated Health Systems (MIHS). In addition, University of Arizona medical students – both residents and fellows – may have an opportunity to fulfill specialty rotations in ultrasound at the HUG Clinic in the future.
GateWay's Nursing students also may start clinical days come spring. Nursing students would perform basic assessments for all ages, with supervision from a faculty nurse practitioner.
Doors are open to the community on Tuesdays and Thursdays, from 9 a.m. to 5 p.m., and will follow the district/college holiday break schedule.
The new HUG Clinic is located in the Main (MA) Building at GateWay, down the hall from the Gecko Cafe. The clinic is required to follow all HIPPA requirements.
A grand opening is scheduled for Jan. 29, 2014.
To book appointments, visit http://www.gatewaycc.edu/hug-clinic or http://hugclinic.appointy.com/. Walk-ins are welcome. For questions, contact the clinic at 602-286-8511.
###
About GateWay Community College
As one of the 10 regionally accredited Maricopa Community Colleges, GateWay Community College is a fully accredited public institution of higher education located in Phoenix. Offering more than 125 certificate and associate degree programs in the areas of Business and Information Technology, Health Sciences, Industrial Technology, Nursing and University Transfer, GateWay has emerged as a leading institution to meet the needs of business and industry.