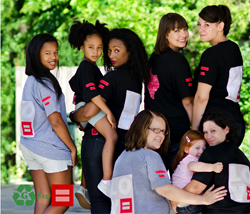 Being involved with charitable organizations is at the core of who we are. Green for a Cause allows us to partner with multiple organizations on many different levels. - Kevin Jones, G Wear President
Dallas, Texas (PRWEB) July 17, 2014
Focused on living green and looking great, G Wear creates fun, fashionable and 100 percent unique recycled apparel and accessories. Green for a Cause allows G Wear to partner with local, regional, and national non-profits and civic organizations to provide them the opportunity to create and sell unique, eco-friendly branded products. HRC is the latest organization to be added to the initiative.
G Wear keeps thousands of yards of fabric out of the landfills each year. All of G Wear's products are hand-assembled in the U.S., even down to its hang tags which are printed on recycled paper and attached with recycled string.
Kevin Jones, G Wear President and HRC Major Donor, said in a statement, "We are honored to partner with the Human Rights Campaign on this new collection. As a diverse and eco-friendly company, G Wear believes in working with and supporting causes and organizations that strengthen the world around us. The products in the Human Rights Campaign Collection from G Wear are a wonderful way to 'live green' and support Equality."
HRC has a long history working with fashion industry leaders including Marc Jacobs, Michael Kors, Kenneth Cole, Perry Ellis, Calvin Klein, Kate Spade, Levi's and Nike promoting LGBT equality through exclusive partnerships and collaborations.
The t-shirts are available exclusively at http://mygwear.com/human-rights-campaign.
About HRC:
As the largest civil rights organization working to achieve equality for lesbian, gay, bisexual and transgender Americans, the Human Rights Campaign represents a force of more than 1.5 million members and supporters nationwide — all committed to making HRC's vision a reality.
Founded in 1980, HRC advocates on behalf of LGBT Americans, mobilizes grassroots actions in diverse communities, invests strategically to elect fair-minded individuals to office and educates the public about LGBT issues.
About G Wear:
The "G" stands for "green" and represents G Wear's commitment to the recycling of materials in order to help you "Live Green and Look Great." G Wear apparel and accessories are 100% unique and sport our signature stripes. Appliques from recycled t-shirts are cut, glued and hand sewn onto each of our products in the USA. Whether it is personal fitness, the holidays, resort vacations, or even pop-culture, G Wear has the apparel and accessories to help you to "Live Green and Look Great."