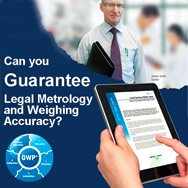 GWP® risk analysis is essential to assess the criticality of the weighing process to determine what kind of routine testing and with which frequency."
Greifensee, Switzerland (PRWEB) February 27, 2014
Inaccurate weighing can lead to irregularities in formulations, poor product quality, rework, decreased productivity, waste, fines and unhappy customers. Following only legal-for-trade regulations may result in weighing errors and may not be sufficient to detect a possible drift or deterioration of instrument performance over time, according to a new GWP® white paper from METTLER TOLEDO, "Avoid Serious Pitfalls When Applying Legal Metrology Rules."
GWP® is the only science-based global standard for efficient lifecycle management of weighing systems, developed from the expertise of METTLER TOLEDO.
"With GWP®, users can use additional criteria, such as minimum weight and risk analysis to establish sound quality management in the laboratory or production environment," says Marianne Portmann, head of global marketing and business development for GWP® at METTLER TOLEDO. "GWP® risk analysis is essential to assess the criticality of the weighing process to determine what kind of routine testing and with which frequency."
The white paper explains how to fulfill legal-for-trade requirements while meeting specific accuracy requirements; how to monitor accuracy with a sound routine testing scheme; and how to ensure quality over time. Readers will also learn about the limitations of the legal metrology approach while providing solutions based on scientific evidence to meet specific process requirements for accuracy as well as legal-for-trade applications.
To download the free white paper, visit: http://www.mt.com/GWP-WP-OIML
About METTLER TOLEDO:
METTLER TOLEDO is a leading global manufacturer of precision instruments. The Company is the world's largest manufacturer and marketer of weighing instruments for use in laboratory, industrial and food retailing applications. The Company also holds top-three market positions for several related analytical instruments and is a leading provider of automated chemistry systems used in drug and chemical compound discovery and development. In addition, the Company is the world's largest manufacturer and marketer of metal detection systems used in production and packaging. Additional information about METTLER TOLEDO can be found at http://www.mt.com