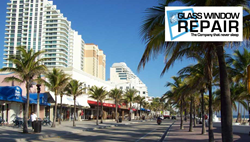 We see big opportunities in smaller communities such as Cooper City, Coral Springs, and Davie, Florida
Cooper City, Coral Spring & Davie, Florida (PRWEB) November 25, 2016
Top sliding glass door repair service, GWR Glass Repair of Fort Lauderdale is proud to announce the launch of three new locations for glass repair services - Cooper City, Coral Springs, and Davie. With Florida residents eager to rebuild and upgrade their glass windows and doors, the company is reconfiguring its outreach strategy to focus on vibrant smaller communities in South Florida.
"While the big population centers of Fort Lauderdale and Miami remain important," commented Yaniet Santos, general manager at GWR, "We see big opportunities in smaller communities such as Cooper City, Coral Springs, and Davie, Florida. Our localized web content and offices make it clear how much we value the smaller cities as glass repair customers, especially for residential glass repair and sliding glass door repair or replacement jobs."
New websites correspond to the company's locations in these cities -
Cooper City Glass Repair at http://www.glasswindowrepaircoopercity.com
Coral Springs Glass Repair at http://glasswindowrepaircoralsprings.com/
Davie Glass Repair at http://glasswindowrepairdavie.com/
The Importance of Being Local
Glass repair is something that many Florida residents whether in Cooper City, Coral Springs, or Davie, take for granted, until it's urgent. A business, for example, might suffer from a break-in, act of vandalism, or even an innocent employee accident that nonetheless damages a glass entryway door or window. A homeowner might realize that his sliding glass door no longer functions, just as a big Florida hail storm approaches. Or, a condominium association in cities as diverse as Cooper City, Coral Springs, or Davie, might realize that their resale value is being impacted by out-of-date windows or doors. These realizations provoke a quest for information and the best glass repair service. However, with large national chains gobbling up advertising space on Google, Yahoo, and Bing, Florida consumers may be frustrated in their desire to "go local."
By launching localized websites that correspond to locations in smaller cities, GWR is helping Florida consumer to identify local businesses that truly "get it" when it comes to "going local" for glass repair needs.
About GWR Glass Repair
GWR Glass Repair is a family owned and operated glass repair business with more than 20 years of experience. Their professional technicians and the large variety of inventory make GWR Glass Repair the top glass repair service. If customers are looking for sliding glass door repair or glass repair in general, please reach out to the company for a free estimate. If customers need a 24/7 Sliding Glass Door repair service, technicians are standing by. The company specializes in sliding glass door repair and window glass repair; technicians will handle any glass replacement situation efficiently. Home or business glass repair is the company's main priority.
GWR Glass Repair of Fort Lauderdale
http://glasswindowrepair.com/