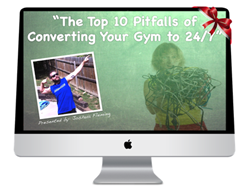 An automated access system into your gym will allow your members the ability to be able to come into your gym 24/7.
Council Bluffs, IA (PRWEB) November 13, 2013
Fitness360Online, a gym outsourcing and consulting company that specializes in 24 hour gym management software, has just announced the release of a free training video that will help gym owners transform their businesses to a 24 hour gym system.
As the new video explains, over 5,000 gyms have closed so far this year in the United States. As gym owners and personal trainers look for ways to cut their overhead, boost sales and stay in business, many are considering converting their fitness business to a 24-hour business model.
In order to help make the transition as smooth as possible, Fitness360Online decided to create and launch the free video that will help gym owners and trainers avoid the common mistakes that typically happen during this time. Called "The Top 10 Pitfalls of Converting Your Gym to 24/7," the training video teaches gym owners and personal trainers what is and is not important when switching their gym over to a 24 hour facility.
Thanks to the company's innovative 24 hour gym marketing system, owners and personal trainers can reduce their payroll, automate the majority of their online gym marketing efforts, and lower the number of hours they need their staff to work.
As an article on the Fitness360Online website explains, the 24 hour gym access system, gym management software, remote surveillance and gym marketing system offer a wide variety of useful features, including management software that gives owners total control of their members' access, marketing, and billing. For example, by making it as easy as possible for people to pay their membership fees, owners can automate their finances and boost their revenues.
The system also features automated check-in equipment that helps to foster a safe atmosphere at the gym, as well as access control systems for 24 hour facilities.
"An automated access system into your gym will allow your members the ability to be able to come into your gym 24/7," an article on the company's website noted.
"This single tool gives you the freedom to run your gym remotely."
Anybody who would like to learn more about Fitness360Online is welcome to visit the website at any time; there, they can read more about the 24 hour gym management software and watch the new training video.
About Fitness360Online:
Fitness360Online.com is a gym consulting and outsourcing company that was established in 2007. The founder, Joshua Fleming, has successfully converted 100-plus gyms to the 24 hour model, launched seven new gyms, and delivered over 300 high level coaching sessions in 2013 alone, while currently helping thousands of personal trainers and gym owners around the world become more profitable in their fitness business through growth coaching, gym marketing automation and outsourcing services. For more information, please visit http://www.fitness360online.com/fitness-marketing-products/access-and-surveillance-systems.