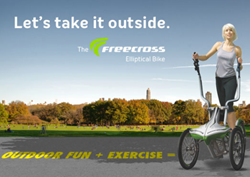 FreeCross™ is fitness innovation at its best, and delivers the ultimate low-impact cardio workout in an exciting new way.
(PRWEB) January 27, 2014
Gym Source is pleased to announce its selection as the exclusive East Coast distributor of the FreeCross™ outdoor elliptical trainer, now available in the United States at all Gym Source retail stores and at GymSource.com.
FreeCross™ is a groundbreaking cross-training technology manufactured by MAN Ferrostaal AG that launched in Germany in 2009. Developed by Wolfgang Eisenberg, an outdoor fitness enthusiast who sought a low-impact way to stay in shape while recovering from injury—the FreeCross™ marries the cardio benefits of elliptical training with the enjoyment and benefit of exercising in the great outdoors.
"FreeCross™ is fitness innovation at its absolute best, and delivers the ultimate low-impact cardio workout in an exciting new way," says Richard Miller, CEO of Gym Source. "I'm thrilled that Gym Source can now introduce fitness fans on this side of the Atlantic to the proven health benefits and incredible full-body ride that FreeCross™ provides."
Designed and engineered by Porsche and Handcrafted in Westphalia, Germany, the FreeCross™ is equipped with a special all-terrain, ultra-lightweight AB7020 aluminum frame and a shiftless NuVinci N360 gearbox that allows for easy resistance adjustment. The patented steering-damper-technology allows for total user control and tight 'street-carving,' while its TEKTRO hydraulic front disc brakes and Shimano rear braking system provide the ultimate in outdoor safety engineering.
What's more, the FreeCross™ burns over 1,000 calories an hour (about 25% more calories than cycling) while building strength in all areas of the body, particularly arms, shoulders, chest, abdominals, back and legs. For more information about FreeCross™ please contact Tom Richard, Gym Source Marketing Director at trichard@gymsource.com or visit http://www.gymsource.com/freecross-premium-elliptical-bike.
ABOUT GYM SOURCE
Gym Source, headquartered in New York, NY, is America's largest distributor of residential and commercial fitness equipment—and an undisputed leader in fitness expertise. With 31 stores in 10 states, and more than 200,000 customers in 47 countries, Gym Source maintains its reputation by consistently providing the best customer service and selling only the best equipment. The in-house Gym Source team of fitness experts and service personnel can design, deliver, install and service the fitness needs of any facility. To learn more about how the Gym Source commercial team can provide solutions for your fitness facility, call (800) GYM-SOURCE or visit us at http://www.GymSource.com