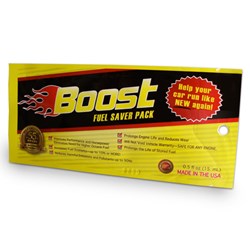 Boost Fuel Saver reduces fuel consumption, resulting in increased miles per gallon-up to 10% or more.
Newport News, Virginia (PRWEB) August 29, 2013
Since 2010, Gyploy has prided itself in helping create a pure, cleaner environment with its products, and Boost Fuel Saver validates that distinction. Over the last 10 years, fuel prices have been at an all-time high without any indication of being below $3.00 per gallon in the foreseeable future (http://www.comprotex.com/gas.html) and that is where Boost Fuel Saver can help.
Boost Fuel Saver is a unique blend of oil soluble organo-metallics that results in better overall performance of your internal-combustion engine. When added to gasoline or diesel fuel, fuel economy increases up to 10% or more. Additionally, it improves performance and horsepower, which reduces carbon build-up and carbon related maintenance problems. It also helps in the reductions of harmful emissions and pollutants sent into the environment.
The additional components of Boost Fuel Saver combined with gasoline or diesel fuel contain an advanced burn-rate modifier and combustion surface modifier catalyst, which when combined with gasoline or diesel fuel, increases the rate of the combustion reaction. As a result, changes are made to the molecular surface structure of the fuel to achieve a more efficient combustion process.
The active ingredient in the fuel saver prevents soot particles from adhering to equipment and metal surfaces. Boost also reduces the fuel droplet size and thus increases the surface area where combustion occurs.
This will keep hydrocarbons separated, not allowing them to stick together and agglomerate in the form of gums, resins and particulate. The stability package does not allow the natural chemical activity of fuel to generate hydrocarbon particulate and the organic dispersant components will rip apart any hydrocarbon particulate that may be present in a tank or in the fuel storage.
Boost Fuel Saver can also prevent the buildup of carbon deposits on the gas side of turbochargers. This in turn rates efficiency of the turbocharger which can be maintained and water washing reduced.
Identification of a lubricating oil component in Boost confirms the availability of a lubricant at the upper cylinder location during combustion. Such lubricating oil components are absent in gasoline and their presence in the fuel saver or gasoline blend enhances upper cylinder lubrication.
The long term effects of Boost Fuel Saver include:

Improves performance and horsepower. It burns more of the available thermal units in the fuel, resulting in better performance.
Increases fuel mileage. Boost reduces fuel consumption, resulting in increased miles per gallon-up to 10% or more.
Reduces harmful emissions and pollutants. In comparative tests, the fuel saver decreased combustible carbon residue 59%-90%.
Prolongs engine life and reduces engine wear. Boost lubricates your engine and reduces friction and wear, in turn, extending your engine life.
Prolongs the life of stored fuel. Boost Fuel Saver permits perpetual fuel storage, which helps extend the life of your fuel.
Allows use of low octane or bio-fuels with no decrease in performance. To experience the benefits listed above without using Boost, you would have to purchase the highest grade premium fuel available, spending $.20-$.30 cents more per gallon, as well as many multiple individual additives.
Allow up to 5-8 treatments of the fuel saver to obtain the maximum benefits and double dose the first 2-3 treatments.
The highly concentrated blend of ingredients in Boost (1/2 ounce treats 20-40 gallons of fuel) eliminates the need for multiple products that are intended to treat just one symptom. Regular use of Boost Fuel Saver will allow for optimum results in engine performance when combined with regular and scheduled maintenance of any internal-combustion engine.
To witness the same benefits without using Boost, an individual would have to purchase the highest grade premium fuel, spending $.20-.30 cents more per gallon with multiple individual additives.
About Gyploy: Gyploy is an online retailer that provides eco-friendly, reusable products for a greener world. Check out the website at http://www.gyploy.com.