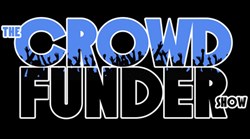 Newport News, Virginia (PRWEB) November 08, 2013
The Crowd Funder TV Show, a show based in Toronto, Ontario, Canada, has provided a chance for Boost Fuel Saver to be viewed in a much bigger medium. This gives Gyploy a great opportunity for Boost Fuel Saver to gain widespread product awareness and increased fundraising contributions.
The Crowd Funder Show is a weekly show that creates exposure for individuals who are interested in raising funds for a specific goal. The segment on Boost Fuel Saver will be televised on Sunday, November 10, 2013 at 11:30 A.M. on Channel Fox 29 Buffalo. The show chose to include Boost Fuel Saver in a segment through an application process submitted to them by James Tucker, Owner of Gyploy.
Gyploy is currently doing a 3-month fundraising campaign on fundrazr.com to raise money to purchase additional Boost Fuel Saver and become a future vendor to retailers worldwide. After extensive dialogue with both traditional brick and mortar stores such as Target and online venues including Overstock, Gyploy needs to raise $32,500 to establish Boost. The funds raised through crowd funding will be used for purchasing more Boost Fuel Saver products and the cost of having them shipped to different retailers domestically and internationally.
Boost Fuel Saver is a unique blend of oil soluble organo-metallics that results in better overall performance of your internal-combustion engine. When added to gasoline or diesel fuel, fuel economy increases up to 10% or more. Additionally, it improves performance and horsepower, which reduces carbon build-up and carbon related maintenance problems. It also helps in the reductions of harmful emissions and pollutants sent into the environment. Boost is also only one of the few fuel additives that are passed by the Environmental Protection Agency (E.P.A).
Contributors to Gyploy's Boost Fuel Saver crowd funding efforts will receive rewards for their donations. The Crowd Funder Show rewards contributors with sponsored gift cards for the same amount of money that they contribute, up to $100. Sponsored gift cards are available for companies such as Sears, Home Depot, The Keg, Boston Pizza, Best Buy, Starbucks, Subway, The Gap and many more. The gift card perks based on donation amount are outline below:

$10 donation: $10 Gift Card from Starbucks, Subway, and other businesses.
$25 donation: $25 Gift Card from Best Buy, Sears and different establishments.
$50 donation: $50 Gift Card from The Keg, Boston Pizza and assorted merchants.
$100 donation: $100 Gift Card from Sears, Home Depot and various retailers.
Please keep in mind the rewards will not be given until after the 3 month fundraiser is completed. For those who participate, you can expect to receive your gift cards by the end of February 2014
Tune in on Sunday, November 10, 2013 at 11:30 A.M, "The Crowd Funder Show" for the Boost Fuel Saver fundraiser on FOX 29 WUTV-Buffalo (check your local listings for accuracy).
Please help and contribute to the fundraiser at the following link: https://fundrazr.com/campaigns/0bol5/ab/61mkb2 .
About The Crowd Funder TV Show
'The Crowd Funder TV Show' is a half hour weekly show that profiles the best, brightest, and most interesting crowd funding projects along with their founders who are looking to make a mark, follow a dream or improve a community. The Crowd Funder TV Show highlights various ideas that have been selected based on their merit for creativity, social relevance, and commercial viability.
About Gyploy
Gyploy is an online retailer that specializes in providing consumers with environmental, eco-friendly and everyday reusable products. Gyploy motto is outwitting the competition with eco-affordable prices. For more information please visit http://www.gyploy.com