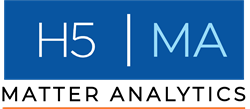 H5MA empowers users with advanced tools that help them understand the PII composition of their hosted data and enable new workflows for streamlining related review efforts.
SAN FRANCISCO (PRWEB) October 01, 2018
H5 today announced the wide release of H5 Matter Analytics℠ (H5MA), a Relativity-integrated application that includes a sophisticated solution for the rapid identification of supported forms of personally identifiable information (PII) in a dataset.
H5MA integrates seamlessly with Relativity to provide enhanced document analytics and PII data identification for users hosting data in the Relativity platform. Previously available only to H5 clients, H5MA is now available to any law firm or corporation that hosts data in Relativity.
With emerging data privacy regulations and the increase in cybersecurity threats, locating personally identifiable information quickly and accurately within unstructured datasets, such as those containing email communications and documents, has become a growing challenge. Adding to the difficulty is the wide variety of information that could lead to personal identification.
H5's automated PII approach, developed with the expertise of H5 linguists and engineers, uses proprietary search technology and document classifiers, applying complex search logic and thousands of specialized terms to quickly identify and prioritize supported PII content for review. Supported PII content includes a wide array of defined indicia that could identify a particular individual. H5MA's solution has been validated through extensive testing and measurement across diverse data populations, helping to ensure that litigators and others can more quickly and accurately identify PII content, accelerate assembly of notification details, and reduce time and downstream review costs in a cyber-breach incident response review.
"With the growing focus on data privacy and the increasing threats in cybersecurity, we're excited to announce a solution that leverages H5's linguistic expertise and the power of our proprietary search engine to bring sophisticated PII identification capabilities direct to Relativity," said Jason Richard, H5's Vice President of Products. "H5MA empowers users with advanced tools that help them understand the PII composition of their hosted data and enable new workflows for streamlining related review efforts."
H5 Matter Analytics will be on display at Relativity's annual Relativity Fest to be held in Chicago from September 30 through October 3. Another functionality in H5MA, the H5 Thread Viewer, has been submitted to this year's Relativity Innovation Awards for Best Innovation: Service Provider. Last year, H5 Matter Intelligence℠, a billing, resource and data analytics product won that award. That product will be available for wide release later this year.
"One strength that sets Relativity apart is the community of partners like H5 who develop powerful integrations and extensions to help users streamline or customize how they use the platform," said Drew Deitch, senior manager of strategic partnerships at Relativity. "We started the Relativity Innovation Awards at Relativity Fest when it became clear that developers like H5 were as eager to solve new challenges in e-discovery and beyond as our own team."
Visit http://www.h5.com to request a demo of H5's Relativity-integrated products.
About H5
H5 helps corporations and law firms find and manage the documents that matter in litigation and investigations by providing expert-driven, technological solutions to address the complex challenges created by electronic data. With expertise in eDiscovery, technology-assisted review and search, H5 is committed to helping clients find and manage the information they need to win cases, meet regulatory requirements and address risks by providing creative solutions that ensure fast, accurate, cost-effective results. This commitment has resulted in the development of H5 Matter Intelligence℠ and H5 Matter Analytics℠, advanced eDiscovery products that streamline review and enhance the user experience for Relativity-hosted matters.
About Relativity
At Relativity, we make software to help users organize data, discover the truth, and act on it. Our e-discovery platform is used by thousands of organizations around the world to manage large volumes of data and quickly identify key issues during litigation, internal investigations, and compliance projects. Relativity has over 175,000 users in 40+ countries from organizations including the U.S. Department of Justice, more than 70 Fortune 100 companies, and 198 of the Am Law 200. RelativityOne offers all the functionality of Relativity in a secure and comprehensive SaaS product. Relativity has been named one of Chicago's Top Workplaces by the Chicago Tribune for seven consecutive years. Please contact Relativity at sales@relativity.com or visit http://www.relativity.com for more information.