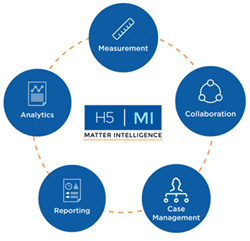 "At H5, our mission is to develop strong and trusted partnerships through excellence in what we do. H5MI empowers our clients with the powerful tools and reporting capabilities we also use, bringing us closer together."
San Francisco, CA (PRWEB) July 11, 2017
H5 today announced the launch of H5 Matter Intelligence, a powerful resource management dashboard application for Relativity, kCura's e-discovery software. H5 Matter Intelligence provides real-time access to the billing and project analytics users need to make well-informed decisions by and across matters.
Whether it's litigation, information governance, a government request, or an internal investigation, Relativity provides organizations with a complete set of flexible tools to tackle their unique challenges through every phase of a project. As a platform, Relativity allows developer partners like H5 to design, build, and integrate applications that extend its functionality.
H5 Matter Intelligence (H5MI) is a new application for H5's Relativity clients and includes a combination of powerful billing, resource, and data composition analytics, providing extensive visibility into matters for maximum knowledge and project control.
With a robust dashboard producing real-time, aggregated information and offering one-click, drill-down capability for category details, users are empowered to control costs and manage resources more effectively across matters. Customizable, automated notifications and reporting provide timely intelligence for ongoing project oversight so that users can take immediate action to keep their matters on track.
"At H5, our mission is to develop strong and trusted relationships through excellence in what we do. Transparency, accuracy, and responsiveness to our clients are imperative to this vision," said Jason Richard, H5's Director of eDiscovery. "We originally developed H5 Matter Intelligence as an internal product to manage the rapid scaling of our eDiscovery business and to make sure we had high value and actionable information for clients at our fingertips. The release of this product to our clients now empowers them with the same tools and reporting capabilities, so we can more easily work hand in hand."
H5 Matter Intelligence is now part of the Relativity Ecosystem, which includes applications and integrations built by Relativity developer partners.
"We're excited to welcome H5 to the Relativity Ecosystem as a new custom developer," said Perry Marchant, vice president of engineering at kCura. "It is great to see their commitment to going the extra mile and providing the e-discovery community with even more comprehensive tools for better matter management."
About H5
H5 is a leading provider of eDiscovery and technology-assisted review services. With expertise in all aspects of the eDiscovery process, H5 excels at managing and delivering processing, hosting and related services. In addition, H5 is dedicated to finding information that clients need to win cases, meet regulatory requirements and address risks before they become liabilities. By combining advanced technologies with expertise in search and information analysis, H5 delivers customized solutions to help corporations and law firms meet their litigation discovery, legal compliance and information management objectives. Numerous independent studies have demonstrated that H5's approach delivers greater cost savings and more accurate results than other alternatives. Please contact info@h5.com for more information or visit our website at http://www.h5.com.
About kCura
kCura are the developers of Relativity, an e-discovery platform used by more than 12,000 organizations to manage large volumes of data and quickly identify key issues during litigation, internal investigations, and compliance projects. Relativity has over 150,000 active users in 40+ countries from organizations including the U.S. Department of Justice, more than 70 Fortune 100 companies, and more than 195 of the Am Law 200. Corporations, law firms, and government agencies use Relativity on-premises, in the cloud, or as a hybrid platform—with hosted, on-demand solutions available through a global network of partners. As a platform, Relativity also allows developers to design, build, and integrate applications that extend its functionality. kCura has been named one of Chicago's Top Workplaces by the Chicago Tribune for six consecutive years and received the CityLIGHTS Lighthouse Award from the Illinois Technology Association in 2016. Please contact kCura at sales@kcura.com or visit http://www.kcura.com for more information.