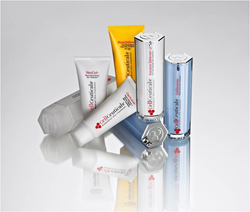 the addition of this regenerative medicine technology will be the opportunity to introduce a new generation of products that are the vanguard of regenerative skin care
San Diego, CA (PRWEB) March 10, 2014
Histogen Aesthetics, a subsidiary of regenerative medicine company Histogen, Inc. focused on skin care and cosmeceuticals, announced today that the Company has acquired the CellCeuticals Biomedical Skin Treatments line of skincare products.
Histogen Aesthetics will continue sales of the eleven existing CellCeuticals Biomedical Skin Treatments skincare products, while bringing new innovation to the line through the addition of a unique regenerative medicine technology, working to improve skin aging at a cellular level.
"We have long admired the science, clinical data and elegant formulas behind the CellCeuticals line, and see it as an ideal fit for our recently revitalized aesthetics subsidiary," said Dr. Gail K. Naughton, CEO and Chairman of Histogen, Inc. "We are very excited to begin infusing unique cell-signaling factors into the CellCeuticals regimen, to truly transform skin one cell at a time."
Dr. Naughton has spent more than 30 years in tissue engineering and regenerative medicine, and holds over 100 patents in the field. She founded Histogen in 2007, focused on developing therapies that work to stimulate the stem cells in the body to regenerate tissues and organs. Through this work, she has also seen how different compositions of human proteins can have cosmetic benefits, particularly in anti-aging and rejuvenation.
"I am pleased that the CellCeuticals Biomedical Skin Treatments will evolve, and see Histogen Aesthetics as an excellent home for this innovative product line," said Paul Scott Premo, co-founder of CellCeuticals Skin Care, Inc. "I believe the addition of this regenerative medicine technology will be the opportunity to introduce a new generation of products that are the vanguard of regenerative skin care."
The CellCeuticals system is made up of eleven distinctive products including the Extremely Gentle Skin Cleanser, CellGenesis Regenerative Skin Treatment, and PhotoDefense Color Radiance SPF55+ with proprietary and patented PhotoPlex technology. The line is currently available at retailers including QVC.com, Dermstore.com, and Nordstrom.com, as well as http://www.cellceuticalskincare.com.
About Histogen Aesthetics
Histogen Aesthetics LLC, formed in 2008 as a subsidiary of Histogen, Inc., focuses on the development of innovative skin care products utilizing regenerative medicine technology. Histogen Aesthetics' technology is based on the expertise of founder Dr. Gail K. Naughton, in which fibroblasts are grown under unique conditions, producing a complex of naturally-secreted proteins and synergistic bio-products known to stimulate skin cells to regenerate and rejuvenate tissues. In 2014, Histogen Aesthetics acquired CellCeuticals Biomedical Skin Treatments, a line of scientifically-proven products that reactivate cells to help aging skin perform and look healthier and younger. For more information, visit http://www.cellceuticalskincare.com.
About Histogen
Histogen is a regenerative medicine company developing solutions based upon the products of cells grown under proprietary conditions that mimic the embryonic environment, including low oxygen and suspension. Through this unique technology process, newborn cells are encouraged to naturally produce the vital proteins and growth factors from which the Company has developed its rich product portfolio. Histogen's lead product, Hair Stimulating Complex (HSC) has shown success in two Company-sponsored clinical trials as an injectable treatment for alopecia. In addition, the human multipotent cell conditioned media produced through Histogen's process is also being researched for oncology applications, and in orthopedics through joint venture PUR Biologics, LLC. For more information, please visit http://www.histogen.com.