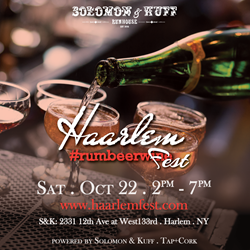 The day-long fest will feature 40+ premium rums, craft beer and wines, curated food selections, live music and performances.
New York, NY (PRWEB) October 06, 2016
The producers of Bed-Stuy's Tap+Cork: Brooklyn Beer & Wine Fest have teamed with Harlem's premiere rum hall, Solomon & Kuff, to present the ultimate Uptown beverage experience, October 22, 2016. The inaugural HAARLEM: #RumBeerWine event brings together a vibrant combination of craft beer, artisanal wines and premium rums for a curated tasting celebration, including good food, good music and good vibes.
Designed with a block-party aesthetic, HAARLEM: #RumBeerWine Fest will take over the exterior of Solomon & Kuff to present 40+ beer and wine selections for aficionados to sip and sample their way through. Featured vendors include Bed-Vyne Wine, Coney Island Brewing, Dyckman Brew, Gun Hill Brewing, Founders Brewing, Love Drunk and Indaba Wines. VIP ticket-holders will also be given access to an exclusively curated three-hour rum tasting showcasing specialty brands inside the hall.
In addition, some of Harlem's finest food venues and trucks will serve up perfectly paired dishes to excite the tastebuds while DJ LiKWUiD and guest deejays keep the block party vibes going.
"Harlem is becoming the culinary capital of NYC, where the culture and diversity has been driving the scene for years," said Michael McConnell, Cultural Director at Solomon and Kuff's Rum Hall. "The community no longer has to go downtown to enjoy a craft cocktail or beer."
Haarlem: #RumBeerWine makes its premiere Saturday, October 22, 2-7pm at Solomon & Kuff, located at 2331 12th Avenue in Harlem, New York. $30 General Admission includes 15 beer and wine tastings (one ticket 3oz beer serving or 2oz wine serving). $65 VIP Admission includes unlimited rum, beer and wine tastings from 3:30pm-6:30pm. along with passed hors d'oeuvres (while supplies last) and general admission access. Advance ticket purchase is highly recommended.
For more information or to purchase tickets, visit haarlemfest.com.
# # #
About Solomon & Kuff
Solomon & Kuff is a Caribbean fusion Gastropub in the New Uptown Meatpacking district, located under the viaduct within the Manhattanville Factory District of West Harlem. Its drinks are its cornerstone, with a top-shelf selection featuring 100 elite rums and cocktails that draw on Caribbean flavors like sorrel, avocado, seaweed, curries, as well as proteins, herbs, fruits, vegetables and spices found in West Indian cuisine. Solomon & Kuff opts to bypass typical West Indian dining fundamentals in favor of rustic dishes and slowly developed flavors in the spirit of the Gastropub style.
About Arts+Crafts
Arts+Crafts is a start-up dedicated to creating events and experiences for the community that contribute to the growth of arts and culture in New York City. Its marquee event is Bed-Stuy's annual Tap+Cork: Brooklyn Beer & Wine Fest which combines the sophistication of grand tastings with the celebratory atmosphere of summer festivals and neighborhood block parties. In addition, it produces, assists with and/or curates such events as concerts, neighborhood crawls and showcases.